Regular price
Rs. 300.00
Sale price
Rs. 270.00
Unit price
per
Sale
Sold out
Fast Acting Treatment For Haemorrhoids, Piles & Fistula-in-ano 
What is Pylsact Ointment?
A hemorrhoid is a swollen vein or a group of veins at the region of the anus. Hemorrhoids (piles) can be both internal and external. External hemorrhoids are present outside the anus and are visible. Internal hemorrhoids are present inside the rectum and are invisible.
Anal fissures occur due to cracks or tears in the anus. It may occur due to injury.
Pylsact ointment is an herbal ointment that provides fast relief from pain, itching, bleeding, and burning sensation. It repairs damaged tissues. Pylsact ointment also provides soothing and cooling actions.
Pylsact ointment provides safe and effective treatment for hemorrhoids. It also has antibacterial properties that treat the infection.
Why Pylsact Ointment?
1. Effective hemostyptic and astringent action to arrest bleeding, itching and also helps to "cast off" piles mass
2. Repairs damaged tissues
3. Effective cooling and soothing action to provide relief from burning sensation
4. Potent, safe, anti-inflammatory and analgesic action relieve pain
5. Antibacterial action treats infection at ano rectal site
Who should consider Pylsact Ointment?
Pylsact ointment is used in the treatment of external and internal hemorrhoids, especially grade one and grade two hemorrhoids. It also treats anal fissures. Applying this ointment provides symptomatic relief from pain, itching and bleeding.
Directions To Use

Pylsact ointment can be applied locally after each evacuation or can be used as directed by the physician.
Disclaimer

The result may vary from person to person depending on the individual body condition, severity of the ailment and pattern of application/intake, etc.
Full Ingredients List

Each gram contains extractives from (in %): Aak (Calotropis procera) 2.89, Thuhar (Euphorbia nerifolia) 2.89, Chameli (Jasminum grandiflorum) 0.40, Daruharidra (Berberis aristata) 0.40, Haridra (Curcuma longa) 0.40, Haritaki (Terminalia chebula) 0.40, Karanj (Pongamia glabra) 0.80, Kutki (Picrorhiza kurroa) 0.40, Lodhra (Symplocos racemosa) 0.40, Manjistha (Rubia cordifolia) 0.40, Neem (Azadirachta indica) 0.40, Nilofer (Nymphaea alba) 0.40, Padmakh (Prunus cerasoides) 0.40, Patol (Trichosanthes dioica) 0.40, Sariva (Hemidesmus indicus) 0.40, Tutiya (Copper sulfate) 0.40, Yashtimadhu (Glycyrrhiza glabra) 0.40, Chitrakmool(Plumbago zeylanica) 0.36, Danti (Boliospermum montanium) 0.36, Haratala 0.36, Kaliharimool (Gloriosa superba) 0.36, Kaner mool (Nerium odorum soland) 0.36, Kasis (Ferrous sulphate) 0.36, Manashila 0.36, Pippli (Piper longum) 0.36, Saindhav (Rock salt) 0.36, Satyanashi (Argemone mexicana) 0.36, Soonth (Zingiber officinale) 0.36, Taroi (Luffa amara) 0.36, Vasa (Adhatoda vasica) 0.36, Vidanga (Embelia ribes) 0.36, Till tel (Sesame indicum), Ointment base q.s.
View full details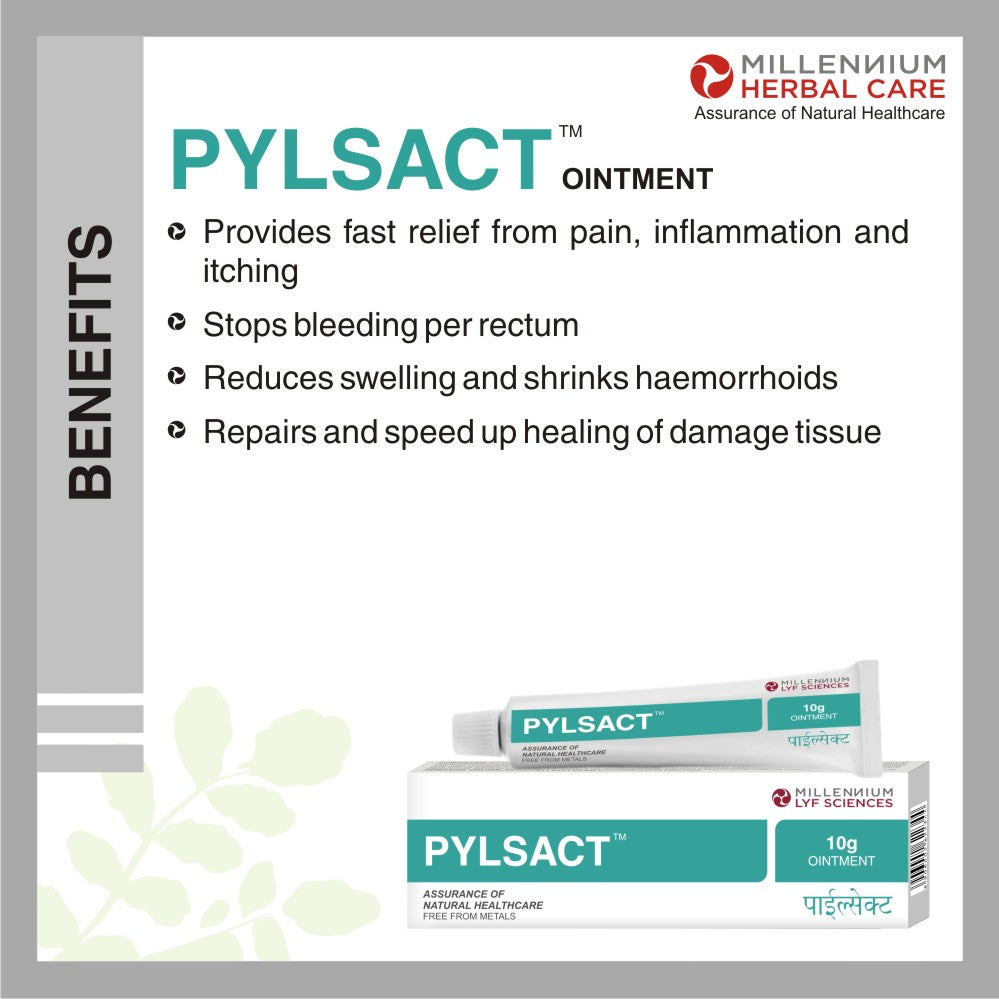 Key Ingredients

Lodhra, Majishtha, Yashtimadhu, Daruharidra, Haridra helps to arrest bleeding caused due to hemorrhoids
Yashtimadhu, Nilofer, Jaati provides the cooling and soothing effect
Neem, Thuhar, Aak, and Haridra show anti-bacterial action. These herbs help in the prevention and the treatment of the bacterial infection
Lodhra, Haridra, Jaati, Til tel helps in the healing process and production of tissues
Chitrak, Thuhar helps to shrink or drop off the piles mass
Aak, Kanermool reduces pain and swelling associated with hemorrhoids