Regular price
Rs. 570.00
Sale price
Rs. 513.00
Unit price
per
Sale
Sold out
Non-habit Forming Natural Digestion Support & Appetiser for Optimum Gut Health 
Pachnam Tablets are the convenient dosage form of our most trusted Pachnam Liquid. Offering the same benefits of improving digestion from appetite to expulsion, Pachnam is a multi-faceted formulation that can positively change the way food nourishes your body.
"Now, good digestion waits on appetite, and health on both! ― William Shakespeare
Benefits 
PACHNAM 

stimulates the normal secretion of digestive enzymes from your own digestive organs

PACHNAM 

acts as a prokinetic agent that improves gastrointestinal motility

PACHNAM 

improves digestion without interfering with the normal acid secretion

PACHNAM 

protects the gastric mucosa from acid-induced damage

PACHNAM 

phyto-nutrients also have activity against Helicobacter pylori

PACHNAM 

does not contain synthetic enzymes, thereby not creating dependence on external elements
Who should consider Intellec Tablet?
1. Functional indigestion or non-ulcer indigestion
2. Loss of appetite
3. Early satiety
4. Post-prandial bloating
5. Distension
6. Nausea and vomiting associated with indigestion
Directions To Use

1 to 2 tablets three times a day or as directed by the physician.
Disclaimers & Legal

The result may vary from person to person depending on the individual body condition, severity of the ailment and pattern of application/intake, etc.

These statements have not been evaluated by the Food and Drug Administration. This products is not intended to diagnose, treat, cure or prevent any disease.

Manufacturer Name and Address: MILLENNIUM HERBAL CARE LIMITED. 12 B, Nirmal, 241-242, Backbay Reclamation, Nariman Point, Mumbai 400021

Marketer Name and Address: MILLENNIUM HERBAL CARE LIMITED. 12 B, Nirmal, 241-242, Backbay Reclamation, Nariman Point, Mumbai 400021

Country of Origin: India
Best Before: 36 Months from Mfg. date
Pack size(s): 90 Tablets
MRP: ₹ 285.00
Unit Sale Price (MRP): USP ₹ 3.16/TAB
Full Ingredients List

Each tablet contains: Chaaturshan (Zingiber officinale, Piper longum, Piper longum root, Piper nigrum) (Rh. Frt. Rt.) 140 mg, Trijaat (Amomum subulatum, Cinnamomum zeylanicum, Cinnamomum tamala) (Frt. Brk, L.) 30 mg, Triphala (Emblica officinalis, Terminalia belerica, Terminalia chebula) ghan (Frts.) 15 mg, Ajwain (Carum copticum) (Frt.) 10 mg, Dhanyak (Coriandrum sativum) (Frt.) 10 mg, Jaiphal (Myristica fragrans) (Frt.) 10 mg, Jeerak (Cuminum cyminum) (Sd.) 10 mg, Lavang (Eugenia aromatica) (Bud) 10 mg, Pudina (Mentha spicata) (L.) 10 mg, Saunf (Foeniculum vulgare) (Sd.) 10 mg, Suva (Anethumsow) (Sd.) 10 mg, Dashmool (Roots of ten herbs) ghan 3.70 mg, Chitrakmool (Plumbago zeylanica) ghan (Rt.) 3.33 mg. Hing (Asafoetida) (Gum.) 2 mg, Karpur (Camphor) 2 mg, Kutki (Picrorhiza kurroa) ghan (Rt.) 1,25 mg, Nagarmotha (Cyperus rotundus) ghan (Rh.) 0,59 mg. A) Excipients; Starch, Magnesium stearate, Aerosil, Sodium starch glycolate, Talcum, Croscarmellose sodium, Preservatives: Methyl & Propyl parabens
View full details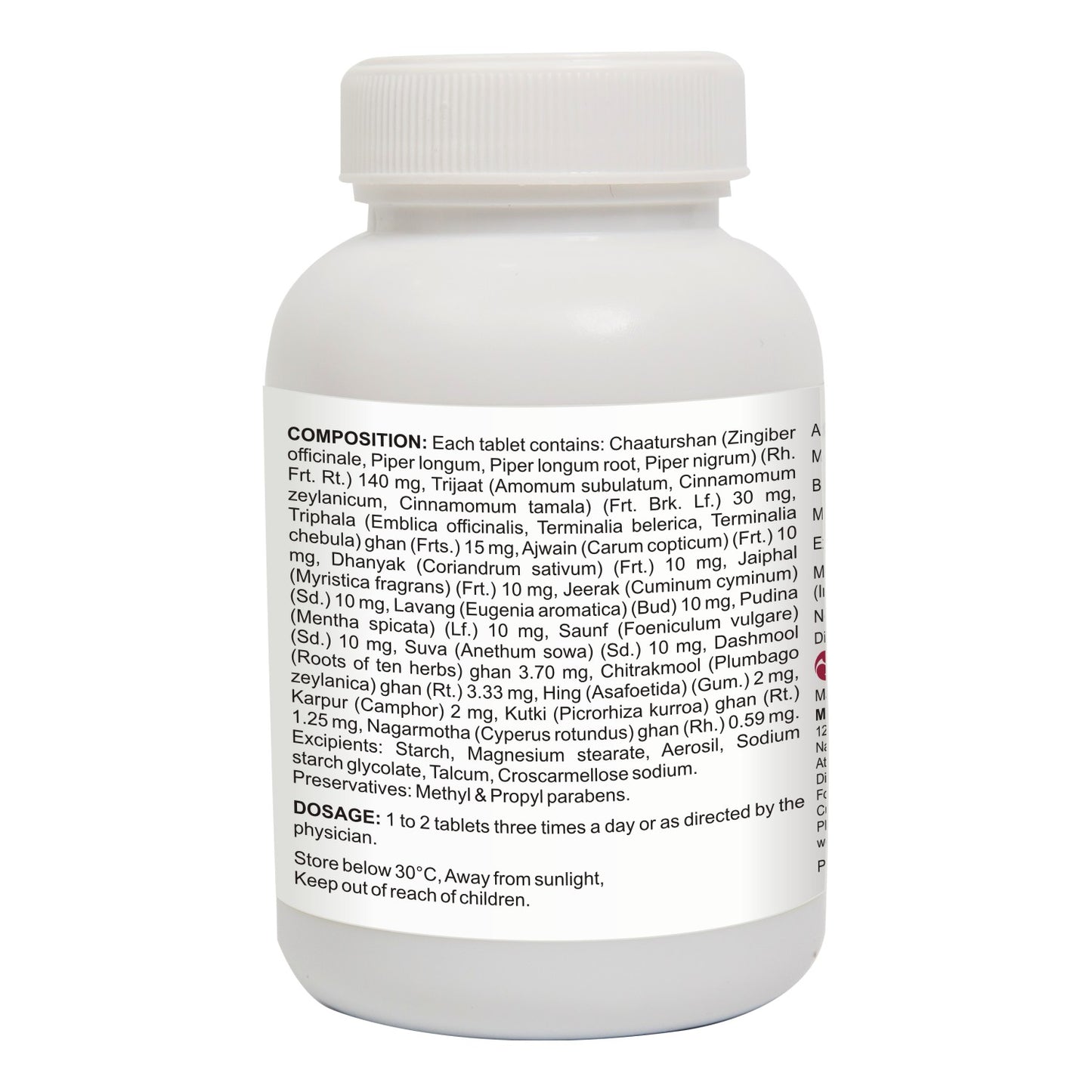 Key Ingredients

Chitrakmool improves digestive strength and relieves the symptoms of indigestion
Dashmool contains ten essential herbs that improve indigestion
Jeerak, Kutki, Nagarmotha stimulates appetite
Draksha, Kumari, Dadim stimulates and activates the release of endogenous enzymes of liver, pancreas, and intestine that aids digestion and absorption of nutrients
Kutki, Kumari, Triphala, and Trikatu enhance bowel movement and help in the colon cleansing action