Regular price
Rs. 540.00
Sale price
Rs. 486.00
Unit price
per
Sale
Sold out
Safe & Effective Treatment For Haemorrhoids, Piles & Fistula-in-ano
What is Pylsact Tablet?
Hemorrhoids are abnormally enlarged veins or a group of veins at the region of the anus. Hemorrhoids (Piles) are of two types, internal hemorrhoids and external hemorrhoids. External hemorrhoids are present outside the anus and are visible. The hemorrhoids that occur inside the rectum and are invisible are called internal hemorrhoids. Haemorrhoids are most often referred to doctors only when enlarged, pain and bleeding occurs.
Anal fissures occur due to cracks or tears in the anus. It may occur due to injury. Fistula-in-ano is an abnormal connection between the skin and the anus. Fistula-in-ano can occur due to the previous abscess in the area.
Pylsact tablets are the potent herbal product containing proven herbal ingredients used for the treatment of hemorrhoids. Pylsact tablets are safe and effective herbal drugs. It is also used as an alternative therapy for anal fissure and anal fistula.
Pylsact tablets are effective hemostyptic (arrests bleeding) and relieves pain and itching. It is a safe drug that relieves constipation and improves digestion.
Why Pylsact Tablet?
1. Effective hemostyptic and astringent action to arrest bleeding and itching
2. Potent, yet safe anti-inflammatory and analgesic actions relieve pain
3. Helps digestion and is an excellent stomachic
4. Safely regulates colon due to its mild laxative action; hence prevents straining at stools
5. Potent antibacterial action treats infection at the ano-rectal area
6. Accelerates repair of the damaged tissues and helps shrink and cast off hemorrhoid or the piles mass
7. Powerful restorative and antioxidant action

Who should consider Pylsact Tablet?
Pylsact tablets are used in the treatment of both internal and external hemorrhoids. It is also an effective treatment for anal fissure. It is also used in the treatment of fistula-in-ano.

Directions To Use

Adults: 2-3 Pylsact tablets to be taken twice daily for three weeks which needs to be continued on a regular basis. These drugs can also be taken as directed by the physician.
Disclaimer

The result may vary from person to person depending on the individual body condition, severity of the ailment and pattern of application/intake, etc.
Full Ingredients List

Each tablet contains in mg: Amorphophallus campanulatus (Corm.) 100.00, Chaaturushan (Equal mix of: Zingiber officinale, Piper longum, Piper longum root, Piper nigrum) (Rz, Frts, Rt) 34.50, Chaaturjaat (Equal mix of: Cinnamomum zeylanicum, Elettaria cardamomum, Mesua ferrea, Cinnamomum tamala) (Bk, Frt, Stmn, Lf) 21.50, Embelia ribes (Frt) 11.50, Mimosa pudica extr.(Sd) 10.00, Operculina turpethum extr.(Rt) 10.00, Triphala (Equal mix of: Emblica officinalis, Terminalia chebula, Terminalia belerica extr.) (Frts) 8.70, Berberis aristata extr.(St Bk) 6.70, Argyreia speciosa extr.(Rt) 2.65, Plumbago zeylanica extr. (Rt) 1.55, Semecarpus anacardium extr. (Sd) 1.44, Curculigo orchioides extr. (Rz) 0.92, Taxus bacatta extr. (Lf) 0.48. Colours:Titanium dioxide, Red, Black&Yellow iron oxides. Preservatives: Methyl & Propyl parabens.
View full details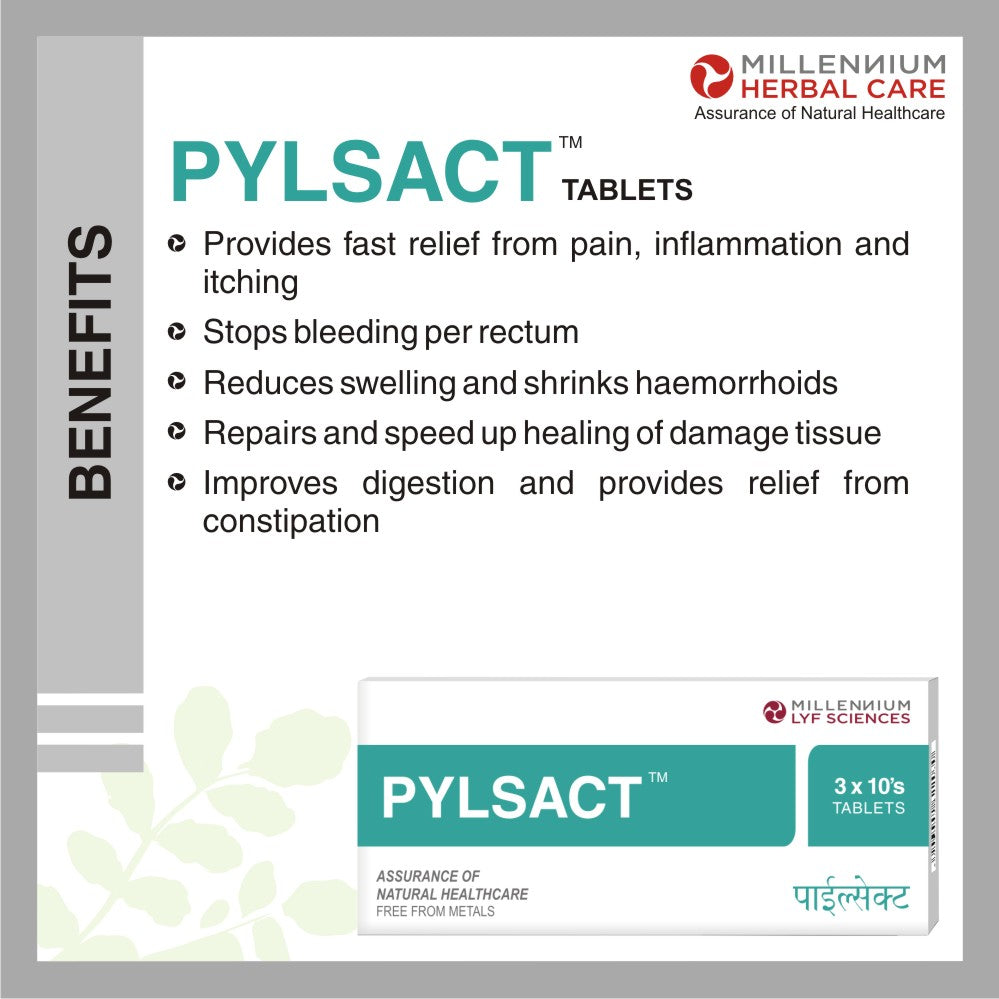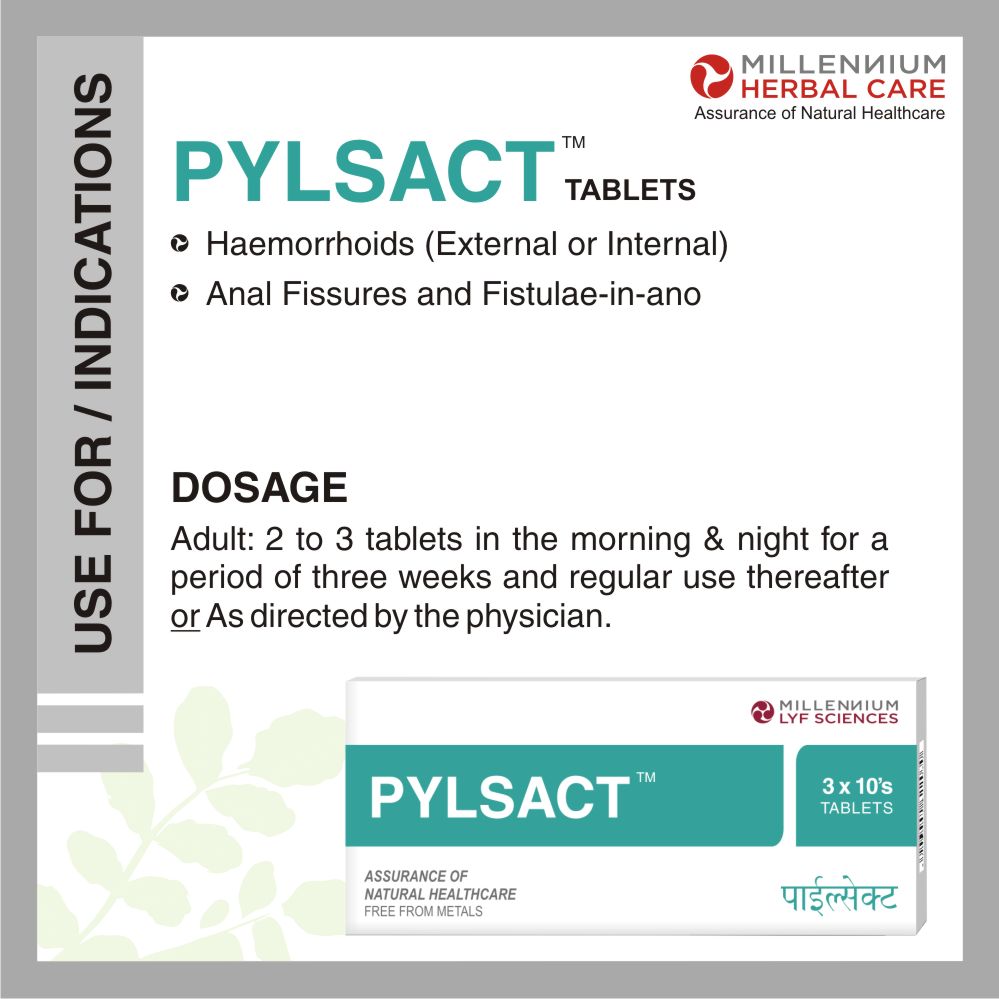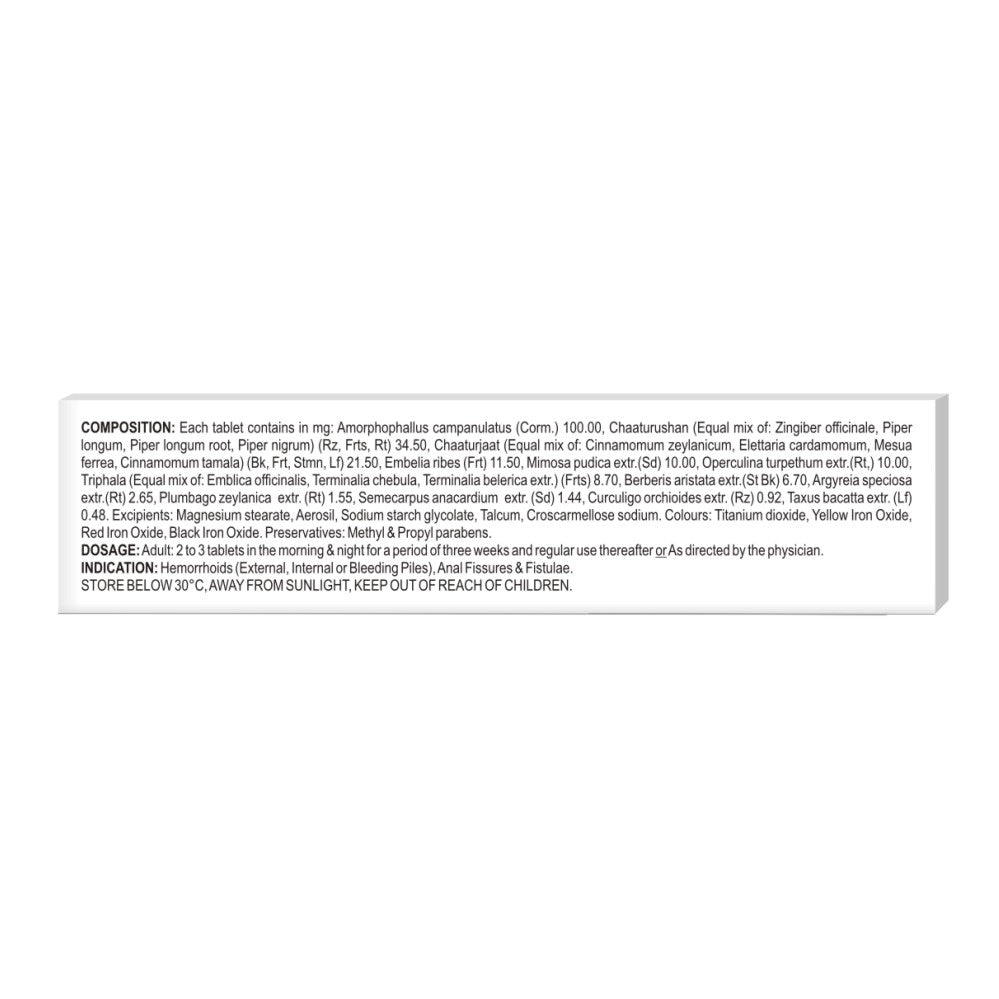 Key Ingredients

Surankand, Nagkeshar, Lajjalu, Haritaki shows action by arresting bleeding and reducing the itching
Chitrak, Daruharidra, Bhallatak, Sunthi works by reducing pain, inflammation, digestion
Daruharidra, Sunthi, Kali musli, Vidang have antibacterial action. They help prevent and treat infections. They also help to repair and heal damaged tissues
Nishoth, Triphala, Haritaki acts as colon cleansing agents that helps in removing the toxins from the colon and prevents constipation