Regular price
Rs. 1,020.00
Sale price
Rs. 918.00
Unit price
per
Sale
Sold out
Clinically Proven Ayurvedic Medicine for Chronic Knee, Joint, Arthritis Pain Relief
What is Antarth Gold?
ANTARTH Gold is an advanced anti-arthritic supplement for joint mobility and comfort. It is an optimum combination of well researched standardized herbal extracts and nutraceuticals, Glucosamine and MSM, providing anti-inflammatory, analgesic and immunomodulation actions. It helps get fast relief from pain, reduces inflammation and morning stiffness of joints. Glucosamine is an essential building block for the formation of glycosaminoglycans (gags) and proteoglycans, the main components of cartilage tissue. Evidence suggests that MSM in combination with other supplements may help with the pain and swelling of joints may help slow joint degeneration due to age or overuse. ANTARTH Gold is an effective supplement to improves joint mobility and flexibility and to help reduce musculo-skeletal pain from degenerative joints including osteoarthritis (OA).
ANTARTH Gold, with optimum therapeutic dose of evidence based herbs like Shallaki (Boswellia serrata), Guggul (Commiphora mukul), Haridra (Curcuma longa), Soonth (Zingiber officinale) and Ashwagandha (Withania somnifera), combined with synergistic Glucosamine 1500mg and MSM 1050mg in each serving (3 tablets), works along pain, inflammatory, and recovery pathways to support joints for optimal functioning, pain-free movements and helps to slow the degenerative process and may support regeneration of joint cartilage.
Why Antarth Gold for Joint Pain Relief and Improved Mobility?
1. Helps reduce pain and improve joint movement
2. Provides relief in 24 hrs. from joint pain, inflammation, and stiffness
3. Prevents cartilage degradation and slows down disease progression
4. Improves long term mobility and flexibility of joints and overall quality of life
5. Is stomach friendly, safe, and ideal for patients with liver and kidney problems who cannot take NSAIDs.
Who should consider Antarth Gold?
1. Joint Pain
2. Osteoarthritis
3. Spondylosis and spondylitis
4. Frozen shoulder
5. Painsomnia
Directions To Use

Take 3 tablets daily with sufficient quantity of water as a dietary supplement or as recommended by your Healthcare Professional.
Full Ingredients List

Glucosamine Hydrochloride 1500mg,
Methyl Sulfonyl Methane 1050mg, Sallaki ext. (Boswellia serrata) Exd.45mg, Shuddha Guggal ext. (Commiphora mukul) Exd. 45mg, Haridra ext. (Curcuma longa) Rz. 25mg, Soonth ext. (Zingiber officinale) Rz. 25mg, Ashwagandha ext. (Withania somnifera) Rt. 25mg, Langli ext. (Gloriosa superba) Rt. 25mg, Chopchini ext. (Smilax china) Tuber 20mg, Rasna ext. (Pluchea lanceolata) Lf. 20mg, Dhanyak ext. (Coriandrum sativum) Fr. 20mg, Nirgundi ext. (Vitex negundo) Lf. 17mg, Pippali ext. (Piper longum) Fr. 15mg, Punarnava ext. (Boerhavia diffusa) Rt. 6mg
View full details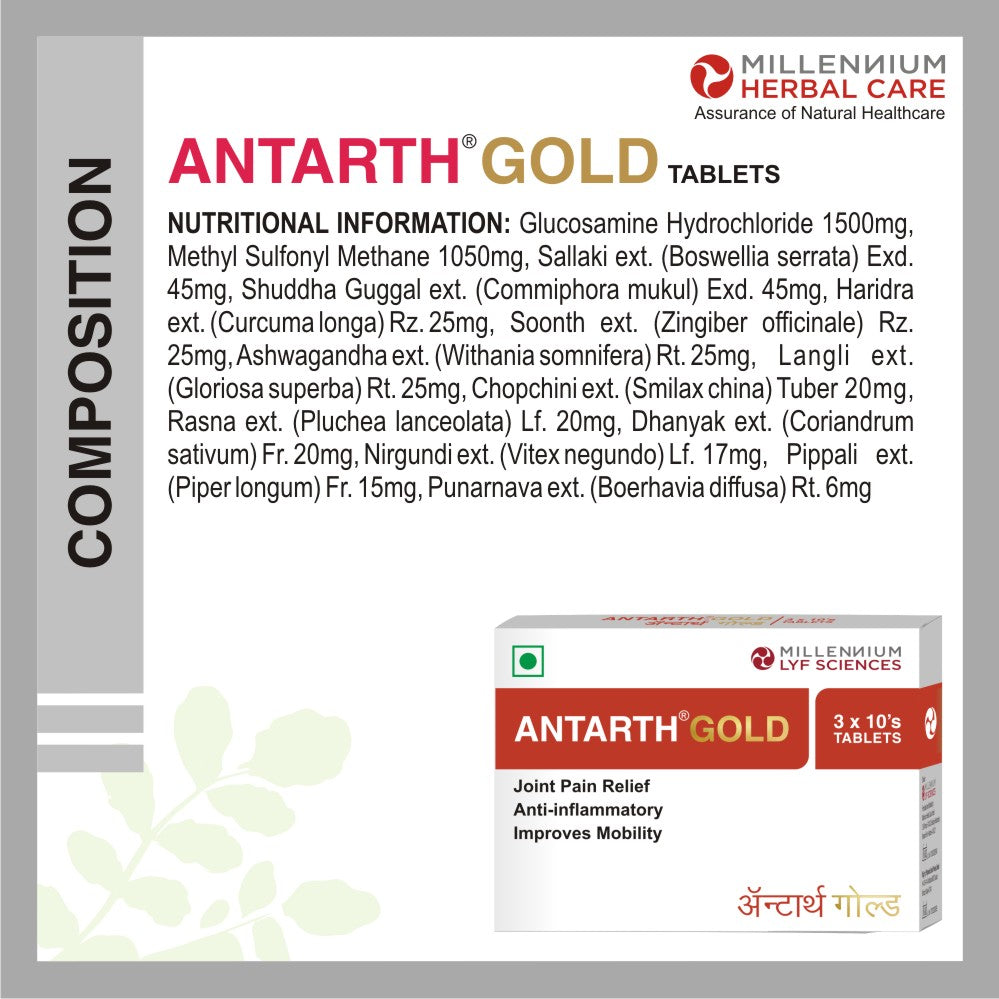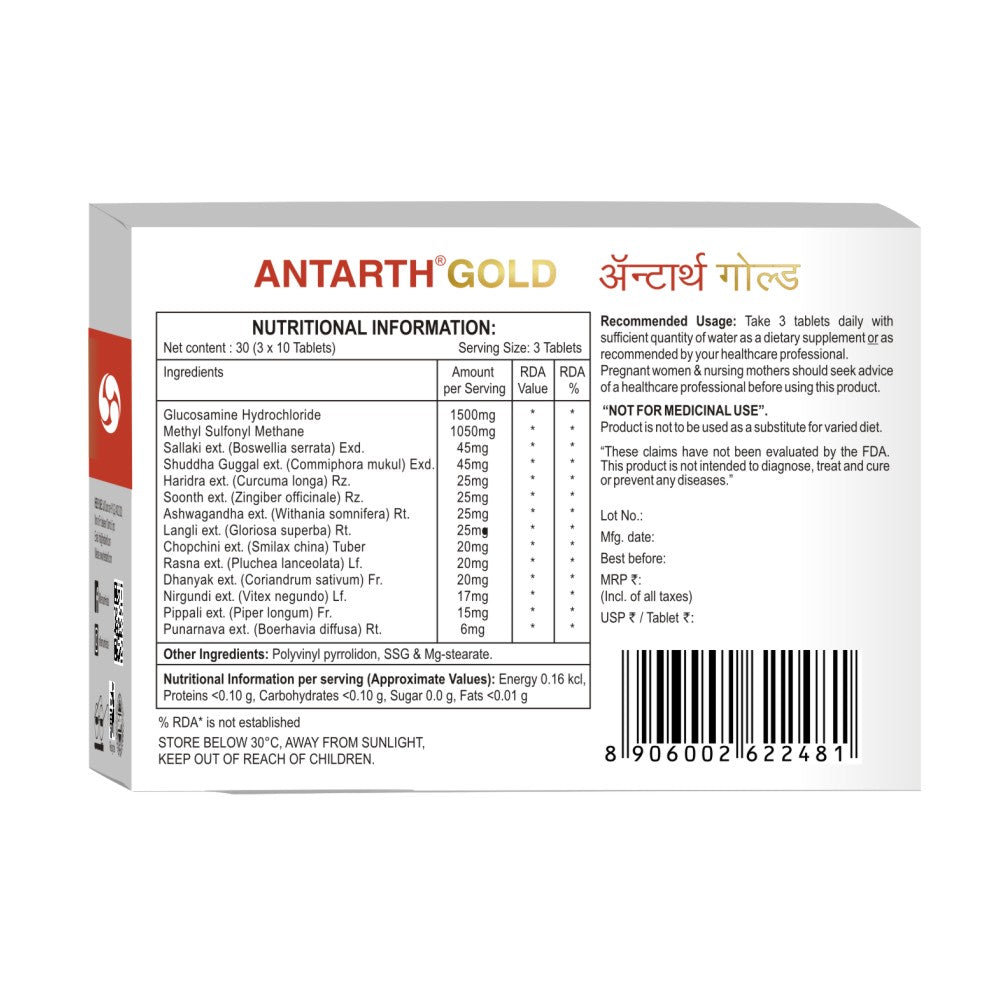 Key Ingredients

Shallaki (Boswellia serrata) Boswellic acids in Shallaki have shown anti-inflammatory effects, which can help reduce inflammation in the joints. By reducing inflammation, it can potentially improve joint function and reduce discomfort.
Guggul (Commiphora mukul) has been traditionally used as an analgesic to relieve pain, including joint pain associated with arthritis. This may help improve the quality of life for individuals with arthritis by reducing discomfort.
Haridra (Curcuma longa) Curcumin is a powerful antioxidant that can neutralize free radicals and reduce oxidative stress. In joint pain and arthritis, oxidative damage can contribute to further joint deterioration, and the antioxidant effects of turmeric may help protect joint tissues.
Soonth (Zingiber officinale) has demonstrated anti-inflammatory properties that can help reduce inflammation in the joints.
Ashwagandha (Withania somnifera) has shown anti-inflammatory effects in some studies. Chronic inflammation is a common contributor to joint pain and arthritis, so by reducing inflammation.