Regular price
Rs. 460.00
Sale price
Rs. 414.00
Unit price
per
Sale
Sold out
100% Natural Ayurvedic Rapid Pain Relief Oil
What is Antarth Liniment?

ANTARTH® Liniment is a powerful natural and safe topical anti-arthritic formulation for high speed relief from localized pain and inflammation. ANTARTH® Liniment combines oil extracted from the roots of ten herbs (Dashmool), Boswellia serrata (Salai guggul) and Vitex negundo (Nirgundi) having potent analgesic, anti-inflammatory, muscle relaxant action. ANTARTH® Liniment is effective in pain associated with osteoarthritis, rheumatoid arthritis, cervical or lumbar Spondylosis, frozen shoulder, sprain, sports injuries and myalgia 
ANTARTH® Liniment integrate nerve calming herbs like Gaultheria fragrantissima (Gandhpura) and Menthol (Pudina satva) that potentially helps to improve the microcirculation within the nerve so that the nerve start functioning at the optimal level and reduces irritability and pain perception.
Why Antarth Liniment for Pain? 
1. Relieves musculoskeletal pain in 5 minutes of application
2. Reduces inflammation and relaxes muscles by blocking inflammatory mediators and improving local blood circulation
3. Improves mobility and functional abilities by relieving muscle spasm, strains and joint stiffness
4. Superior absorption for fast and long lasting relief
5. Non irritating, does not damage skin tissues and strains clothing
Who should Consider Antarth Liniment?
ANTARTH® Liniment is a perfect ayurvedic and natural topical treatment for people with
1. Arthritic pain
2. Sports injuries
3. Low back pain
4. Myalgia
Directions To Use

The sufficient quantity of liniment or ointment should be taken and gently massage over the affected area. It can be applied 2 to 3 times a day based on the severity of pain.
Disclaimer

The result may vary from person to person depending on the individual body condition, severity of the ailment and pattern of application/intake, etc.
Full Ingredients List

Each ml contains: Gandhpura tel (Gaultheria fragrantissima) 22% w/v Dashmool tel (Roots of 10 herbs) 7% v Pudina satva (Menthol) 5% Karpur (Camphora) 4% Nilgiri tel (Eucalyptus globulus oil) 3%Oil base q.s.
View full details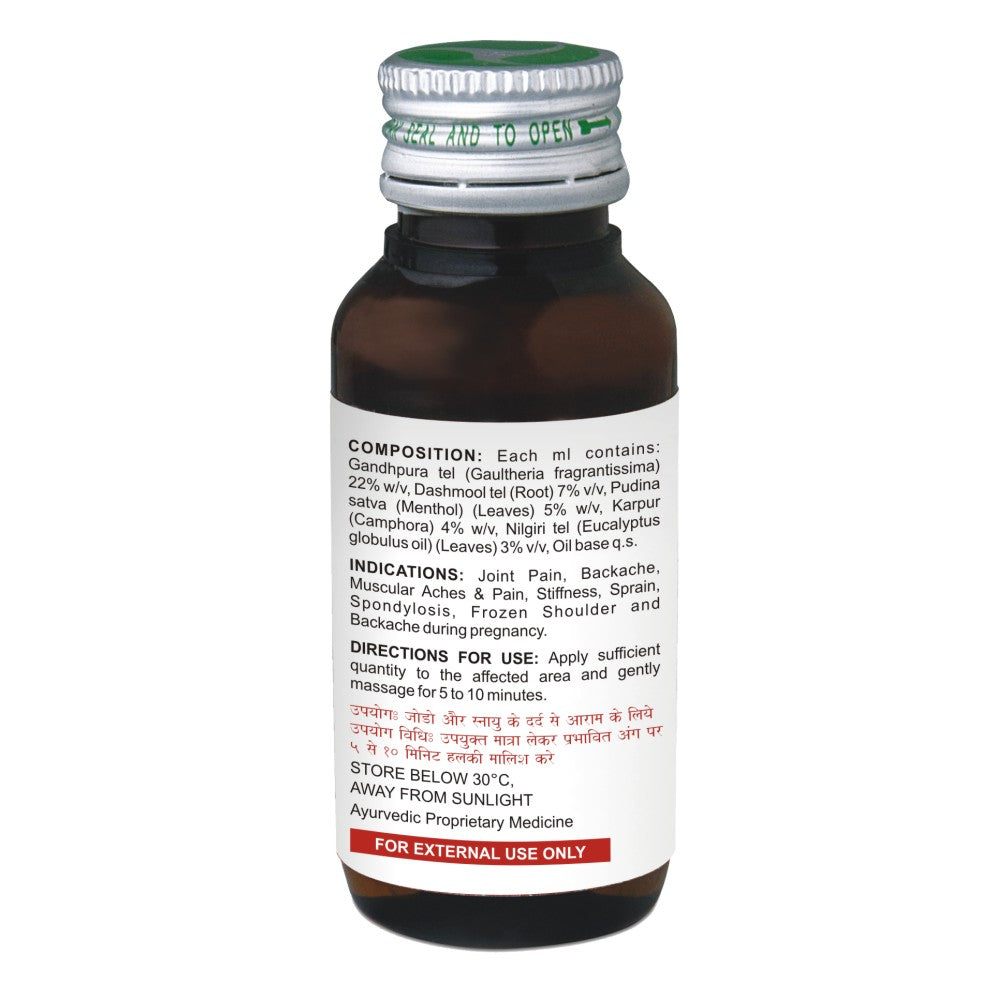 Key Ingredients

Gandhpura oil (Gaultheria fragrantissima): Analgesic & Anti-inflammatory
Pudina oil (Menthol): Analgesic, Anti-inflammatory & Pain modulator
Karpur (Camphora): Analgesic, Anti-inflammatory & Pain modulator
Nilgiri oil (Eucalyptus globulus oil): Analgesic & Anti-Inflammatory
Dashmool oil (Roots of 10 herbs): Analgesic, Anti-Inflammatory & Muscle Relaxant