Regular price
Rs. 720.00
Sale price
Rs. 648.00
Unit price
per
Sale
Sold out
Fast Acting Gas Relief & Antispasmodic
What is Carmino?
The feeling of indigestion, loss of interest in eating, sleeplessness, headache, etc. are sometimes the result of 'gas' that is accumulated in the intestines and stomach. This condition is known as flatulence. It occurs commonly due to eating spicy food, swallowing air, eating fast, stress, or anxiety. (Curry, worry and hurry) Excessive passing of gas may make you feel uncomfortable and embarrassed. CARMINO gives fast relief from gas and flatulence.
CARMINO SGC is a synergistic combination of potent volatile oils from roots, seeds and herbs. It does not have a chalky taste. It expels out trapped abdominal gas and regulates gastrointestinal motility.
Why Carmino for Gas Relief?
1. Fast relief from abdominal gas and distension by relaxing sphincter
2. Relieves abdominal colic by expelling trapped intestinal gas due to presence of aromatic volatile oils
3. Antispasmodic action relieves abdominal pain
4. Regulates gastrointestinal motility
5. No chalky taste
Who should consider Carmino?
CARMINO SGC is effective in relieving symptoms of gas and flatulence. It is used to relieve severe pain in abdominal colic. It is used to get relief from acidity and bloated stomach. It helps increase the secretion of digestive enzymes, which promote digestion.

Directions To Use

It is advised to take 1-2 capsules two times a day after meals with water, or as an SOS when feeling bloated or gassy. It should not be chewed. Or as instructed by your physician.
Disclaimer

The result may vary from person to person depending on the individual body condition, severity of the ailment and pattern of application/intake, etc.
Full Ingredients List

Each soft gel capsule contains : Mentha oil (Mentha piperata) 100.00 mg Nutmeg oil (Myristica fragrans) 10.00 mg Ajwain oil (Carum copticum) 5.00 mg Hing (Ferula asafoetida) 1.00 mg Ginger oil (Zingiber officinale) 0.02 mg
View full details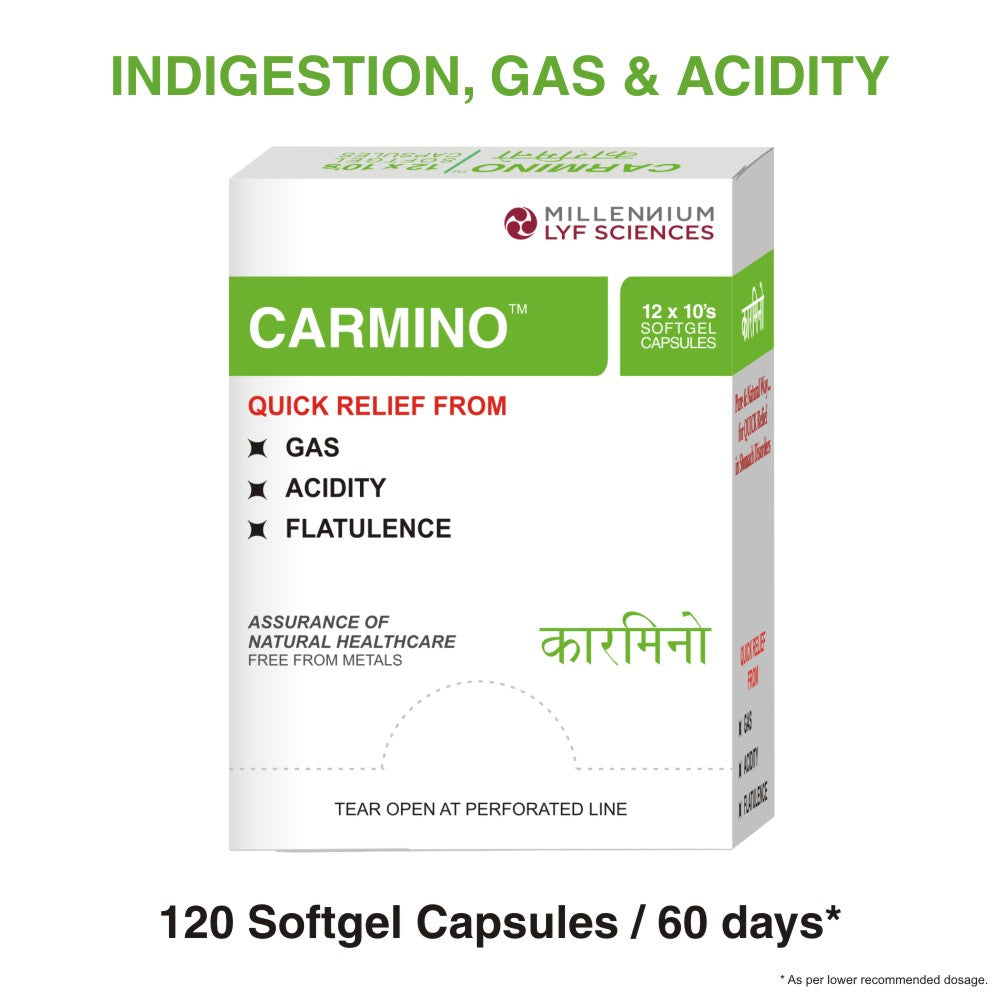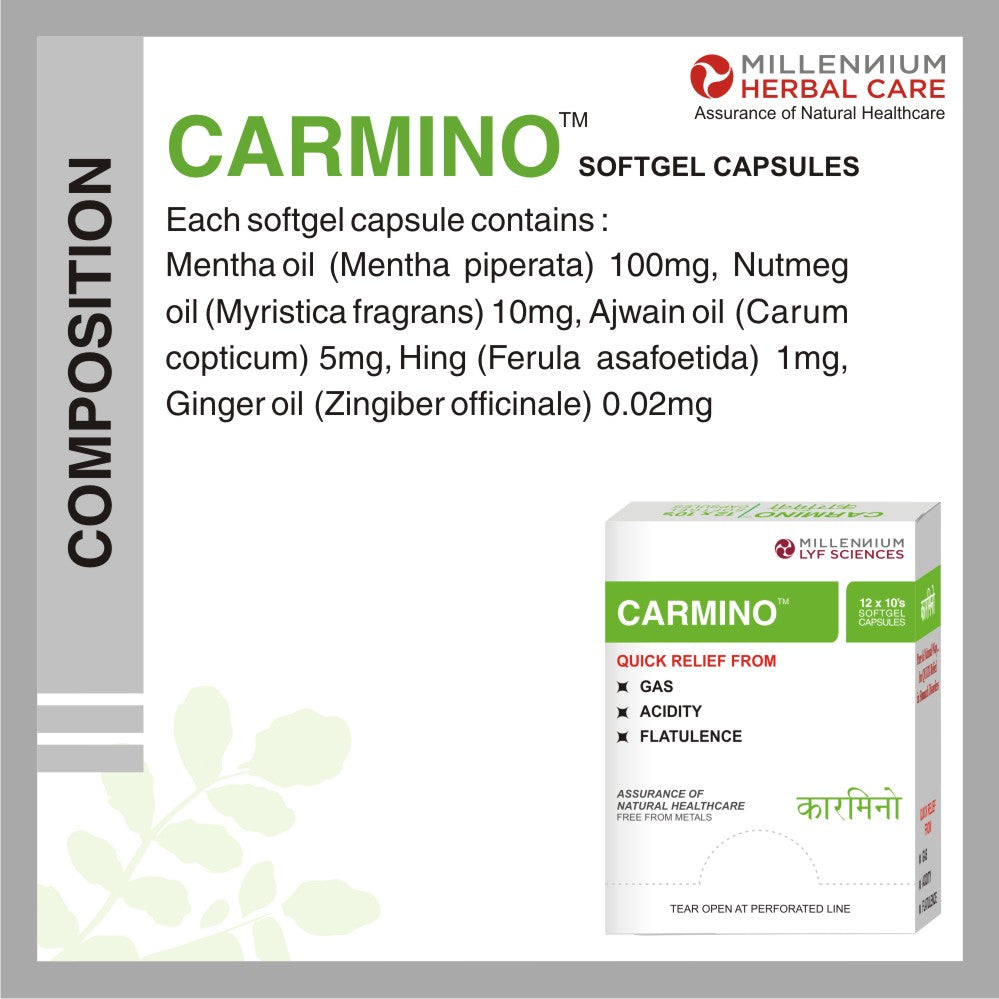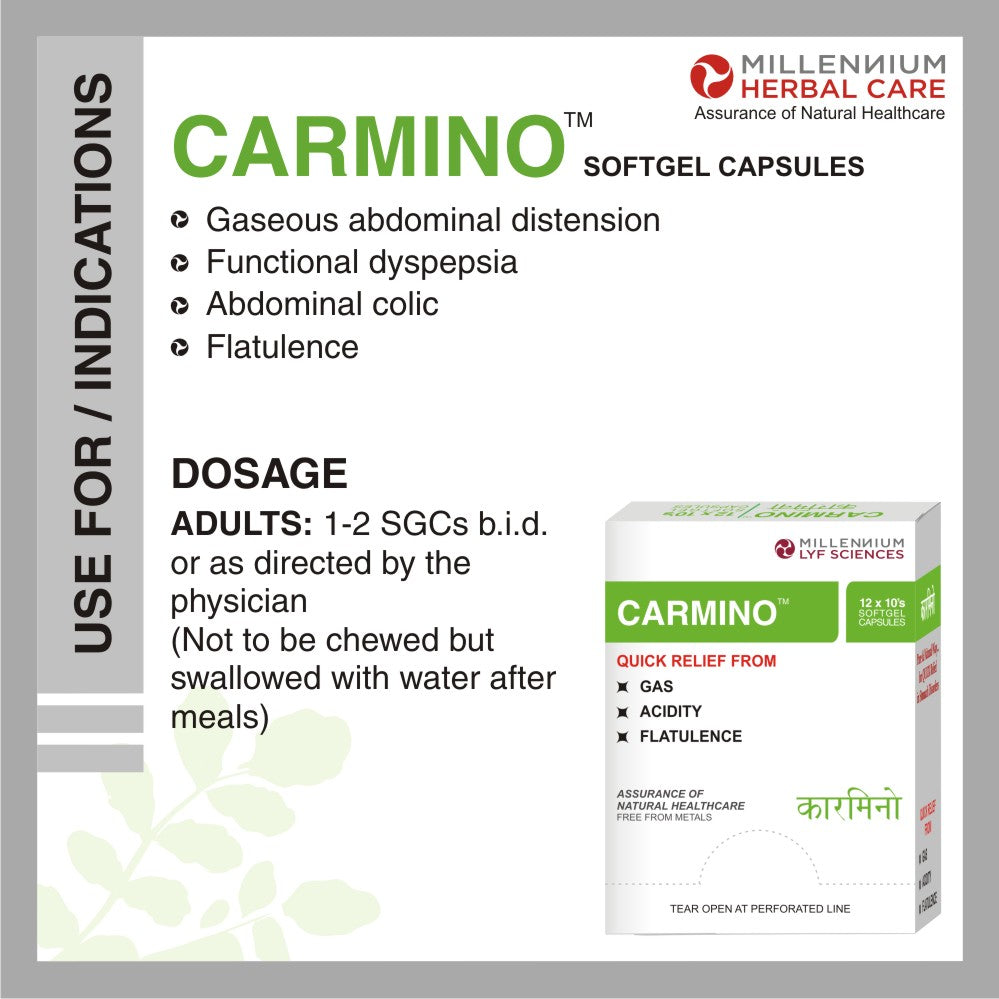 Key Ingredients

Peppermint oil, Ajwain oil, and Nutmeg oil present in CARMINO SGC act by relaxing muscles of the stomach and intestine. As a result, it helps in the reduction of abdominal pain.
Hing and Sunthi present in CARMINO SGC acts by lowering the lower esophageal sphincter (LES) pressure; as a result, the gas produced in the intestine and stomach expelled orally rather than rectally.