Regular price
Rs. 1,404.00
Regular price
Rs. 1,560.00
Sale price
Rs. 1,404.00
Unit price
per
Sale
Sold out
Clinically Proven Spermatogenic & Natural Antioxidant for Male Functional Infertility 
What is Spermon?
SPERMON SGC is a clinically proven formula with potent phytonutrients that help male reproductive health - especially by increasing production and protection of healthy quantity and quality of sperms, while enhancing sperm motility and morphology.
SPERMON's anti-oxidant properties save sperms from free radical damage. The unique combination of the herbs also increases male desire. This phyto-therapy is safe for long-term use.
SPERMON SGC is the perfect spermatopoietic and spermatogenetic, to augment the quality and quantity of semen, increases libido, reduces stress and improves quality of life, leading to considerably improved chances of fertilization.
In a clinical study of men with low sperm count, 84% cases saw statistically significant increases in sperm density and sperm motility, while sperm density increased by 67.6%.
Why Spermon for Male Health?
1. Improves semen quantity and quality as a proven spermatopoietic
2. Accelerates spermatogenesis by stimulating endogenous testosterone secretion to ensure greater availability to gonads
3. Improves sperm motility, count and morphology
4. Potent antioxidant action protects sperm from free radicals
5. Strengthens male reproductive system
6. Enhances libido
7. Safe for long term use
Who should consider Spermon?
SPERMON SGC is used in the treatment of oligospermia. It is also effective in the treatment of Asthenospermia.
SPERMON SGC is also indicated for the treatment of teratospermia, a condition characterized by abnormal sperm's morphology which leads to infertility.
Spermatorrhoea is an involuntary loss of semen that can be treated with SPERMON SGC.
Directions To Use

2 SPERMON soft gel capsules to be taken twice daily for three to four months or as directed by the physician.

Disclaimer

The result may vary from person to person depending on the individual body condition, severity of the ailment and pattern of application/intake, etc.
Full Ingredients List

Each softgel capsules contains extract in mg of : Gokshura (Tribulus terrestris) 15.00 mg Kaunchabeej (Mucuna pruriens) 25.00 mg Ashwagandha (Withania somnifera) 25.00 mg Safed Musli (Asparagus adscendens) 16.66 mg Salam Misri (Orchis latifolia) 16.66 mg Shatavari (Asparagus racemosus) 20.00 mg Shilajit (Asphaltum) 12.50 mg Jaiphal (Myristica fragrans) 4.16 mg Muskdana (Hibiscus abelmoschus) 2.50 mg, Talmakhana (Hygrophila spinosa) 5.00 mg Pippali (Piper longum) 8.33 mg
View full details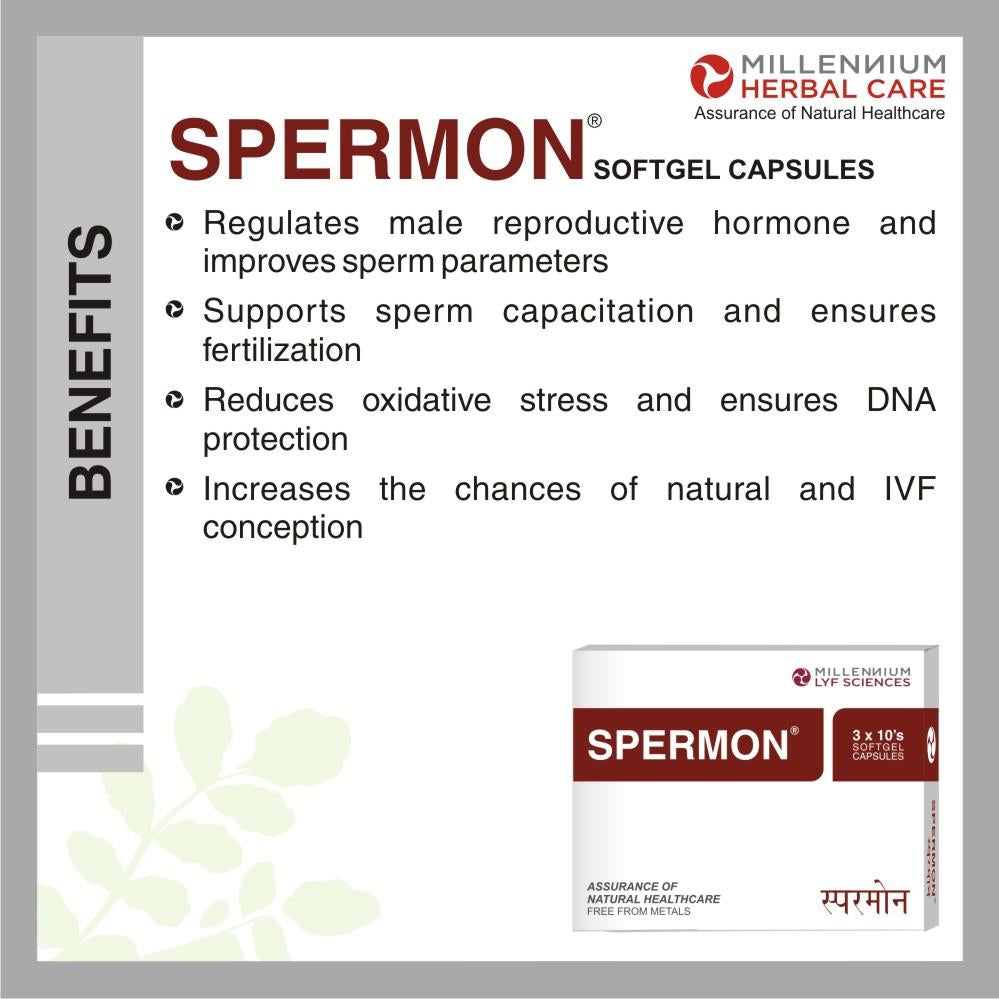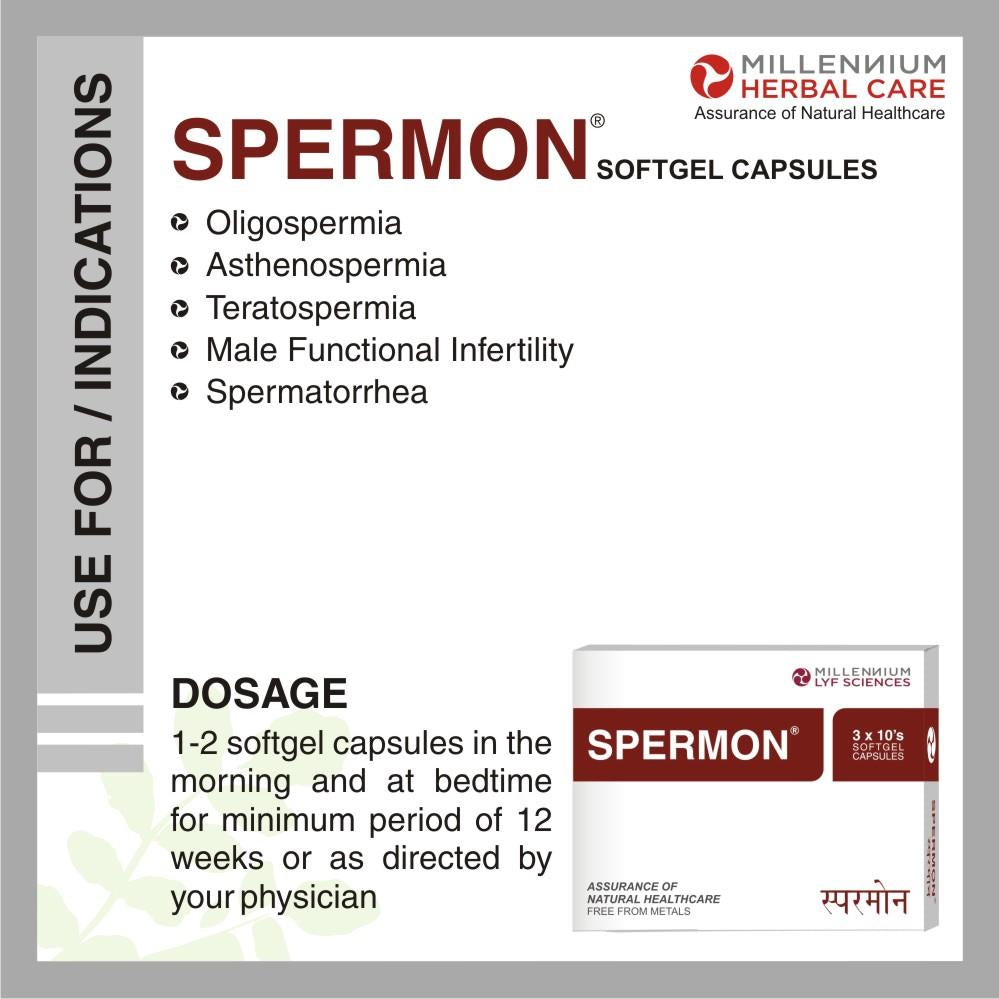 Key Ingredients

Gokshura, Ashwagandha helps in the production of the matured sperms
Kaunchbeej, Salammisri, Talamkhana aid in the normal secretion of testosterone
Ashwagandha, Shatavari, Salammisri, Talamkhana are herbs that improve the sperm count, sperm motility, and morphology
Jaiphal, Ashwagandha help the body cope with stress
Shilajit, Safed musli, Salammisri provides potent antioxidant properties that protect the sperms