Regular price
Rs. 660.00
Sale price
Rs. 594.00
Unit price
per
Sale
Sold out
Clinically Proven Formula to Restore Healthy Liver Functions
What is Heptovit SGC?
Hepatitis is the inflammation of the liver. Hepatitis is caused by a virus. The hepatitis virus is of five types A, B, C, D and E. Viral infection, and liver dysfunctions are caused by viruses, toxic substances, drugs and diseases. Excessive alcohol intake can cause damage to the liver which is called alcoholic liver disease. Effect of hormones on liver enzyme, alkaline phosphatase during pregnancy causes Cholestasis of pregnancy.
Heptovit SGC and syrup contain powerful and proven herbs to repair the damaged liver cells and restore the liver functions. It is a proven liver-protective, liver corrective and anti-viral. It efficiently lowers the raised levels of liver enzymes. It therefore stimulates appetite and improves the digestive functions.
Heptovit SGC and syrup also provide Choleretic and Cholagogue actions.
Why Heptovit SGC for healthy liver?
1. Effectively brings down the raised levels of SGOT, SGPT, ALP & Bilirubin within a week to ten days
2. Protects, repairs and regenerates hepatocytes as a potent hepatoprotective and hepatostimulant
3. Improves bile flow due to its choleretic and cholagogue action
4. Improves liver functions and helps to detoxify the body
5. Stimulates appetite, improves digestion and helps optimum assimilation of nutrients
Who should consider Heptovit SGC?
Heptovit SGC and syrup can be used in the conditions of viral hepatitis A and B. It improves liver functions in drug and toxic induced hepatitis. It is also used in the conditions of alcoholic liver disease and nonalcoholic fatty liver disease (NAFLD). It is used for the treatment of early stages of liver cirrhosis.


Directions To Use

For adults
Syrup: 10-15ml should be taken twice or thrice daily for 1-2 months or as directed by the physician.
SGC's: 1-2 SGC's to be taken twice or thrice daily for 1-2 months or as directed by the physician.
For children:
5ml syrup should be taken twice or thrice daily for 1-2 months or as directed by the physician.

Disclaimer

The result may vary from person to person depending on the individual body condition, severity of the ailment and pattern of application/intake, etc.
Full Ingredients List

Each softgel capsule contains extracts in mg. (derived from in bracket):BHUIAMLA (Phyllanthus amarus) (Herb) 20 (300mg), TRIPHALA (Terminalia chebula,
Terminalia belerica, Emblica officinalis) (Fruits) 75 (300mg). BHRINGRAJ (Eclipta alba) (Herb) 15 (150mg), DARUHARIDRA (Berberis aristata) (Wood) 6.66 (100 mg), PITTAPAPADA (Fumaria officinalis) (Whole plant) 10 (100mg), PUNARNAVA (Boerhaavia diffusa) (Root) 5.88
(100mg), SUNTH (Zingiber officinale) (Rhizome) 5 (100mg), CHITRAKMULA (Plumbago zeylanica) (Root) 3.33 (50mg), GUDUCHI (Tinospora cordifolia) (Stem) 4.16 (50mg). KALMEGH (Andrographis paniculata) (Herb) 5 (50mg), KUTKI (Picrorhiza kurroa) (Root) 6.25 (50mg), PIPPALI (Piper longum) (Fruit) 8.33 (50mg). Excipients: Gelatin, Bees wax, Soya Lecithin, Lactose monohydrate. Arachis oil. Colour: Sunset Yellow, Brilliant blue & Titanium dioxide.
View full details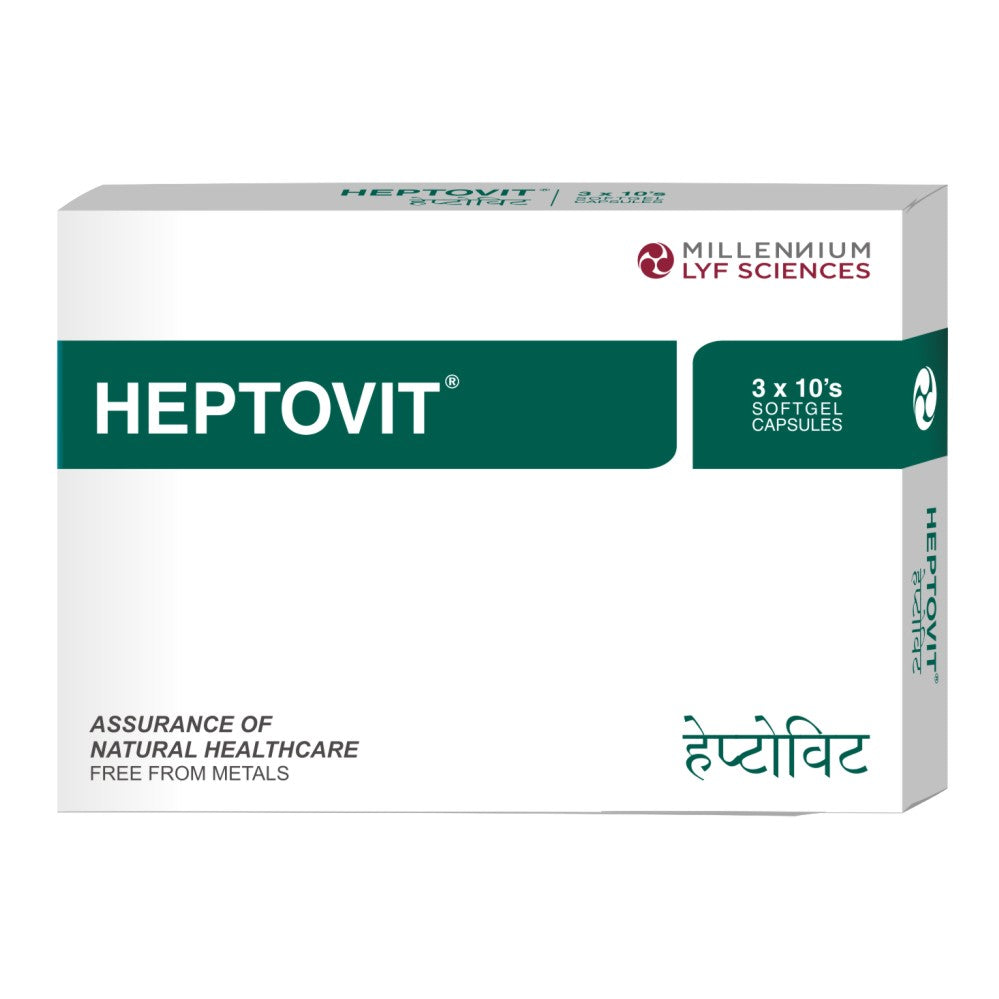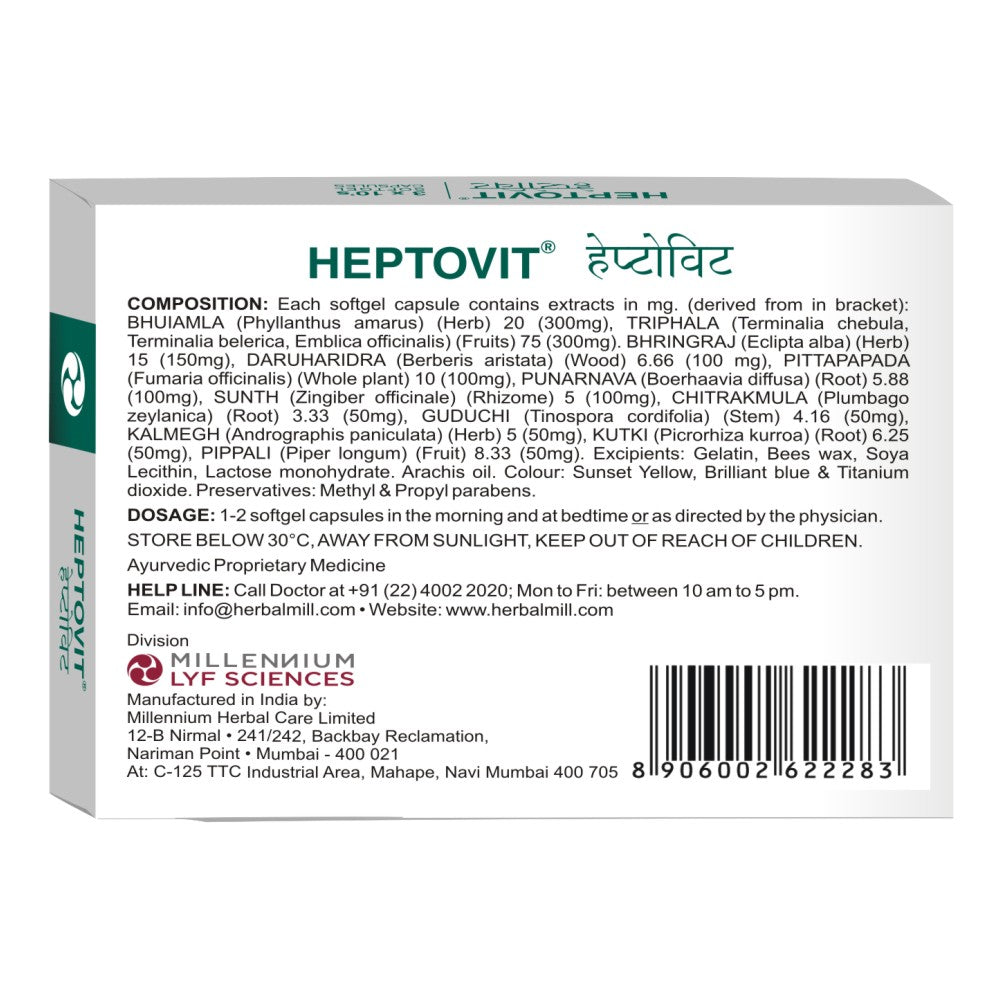 Key Ingredients

Daruharidra and Kutki are medicinal herbs that repair and protect liver cells, improve liver functions. It provides symptomatic relief to the patient.
Kalmegh is a standard and proven liver-protective. It repairs and protects the liver cells. It has effective antioxidants to fight against liver toxins and free radicals.
Bhuiamla effectively treats hepatitis B and jaundice. It is used for the effective functioning of the liver.
Punarnava roots are helpful in the treatment of jaundice and indigestion.
Soonth acts as an anti-viral. It helps reduce the symptoms of viral infection.
Pittapapda helps regenerate the liver tissue.