Regular price
Rs. 780.00
Sale price
Rs. 702.00
Unit price
per
Sale
Sold out
Herbal Formula for Osteoporosis Reversal and Strong Bones - Vegetarian Alternative to Calcium 
What is Osheal Tablet?
Damage to the bone leading to breakage is a fracture. A fracture can occur due to injury and weakness of the bone due to loss of bone mass. A Ligament tear is the injury or damage to the connective tissue in the joint. Ligament tear or fracture may occur due to excessive, overuse, weakness or injury.
Osteopenia is the bone pain experienced before osteoporosis. This is due to the deficiency of calcium and minerals in the body. Osteoporosis occurs due to the loss of bone mass, which leads to brittle and fragile bones.
Osheal tablets contain effective herbal ingredients that help in the healing of the fractures. These tablets relieve pain and swelling. Osheal tablets help in bone formation and also help in preventing bone loss. By providing organic calcium, vitamin C, minerals, and Mucopolysaccharides, it improves mineral density and strengthens the bone to increase the bone mass (BMI).
It also contains antioxidants that scavenge free-radicals. It is safe for long-term use.
Why Osheal Tablet?
1. Enhanced osteoblastic activity, helps promote faster union of the bone and mineralization of the callus.
2. Reduces bone resorption; hence prevents loss of bone
3. Accelerates ossification and callus formation
4. Decreases the period of immobilization and fastens the recovery process, leading to early weight bearing, mobility, and a return to normal life.
5. Provides strength to tendons and muscles, which promote early recovery.
6. Provides organic, bio-available calcium, vitamin C, mucopolysaccharides, and minerals to help bone formation and improve mineral density.
7. Anti-inflammatory, analgesic, and tissue rejuvenator actions relieve associated pain and swelling and promote bone healing.
8. A potent antioxidant that helps scavenge free radicals.
9. It is safe for long-term use.
Who should consider Osheal Tablet?
Osheal tablets are usually indicated for the treatment of bone fracture and ligament tear. It effectively relieves the symptoms of muscle pull. These tablets are also used in the treatment of osteopenia and osteoporosis. (Prevention and treatment).
Directions To Use

Two tablets can be taken twice daily for six months or as directed by the physician.


Disclaimers & Legal

The result may vary from person to person depending on the individual body condition, severity of the ailment and pattern of application/intake, etc.

These statements have not been evaluated by the Food and Drug Administration. This products is not intended to diagnose, treat, cure or prevent any disease.

Manufacturer Name and Address: MILLENNIUM HERBAL CARE LIMITED. 12 B, Nirmal, 241-242, Backbay Reclamation, Nariman Point, Mumbai 400021

Marketer Name and Address: MILLENNIUM HERBAL CARE LIMITED. 12 B, Nirmal, 241-242, Backbay Reclamation, Nariman Point, Mumbai 400021

Country of Origin: India
Best Before: 36 Months from Mfg. date
Pack size(s): 30 Tablets
MRP: ₹ 195.00
Unit Sale Price (MRP): USP ₹ 6.5/TAB
Full Ingredients List

Each tablet contains extract derived from: Hadsandhari Cissus quadrangularis) 75.00mg
Arjuna chaal (Terminalia arjuna) 75.00mg
Lakh ( Laccifer lacca) 75.00mg
Methi beej (Trigonella foenum-graecum) 75.00mg
Shuddha guggal (Commiphora mukul) 53.00mg
Salai guggal (Boswellia serrata) 25.00mg
Ashwagandha (Withania somnifera ) 10.00mg
Haridra Ghan (Curcuma longa) 8.50mg
Bala Ghan (Sida cordifolia) 8.00mg
Soonth (Zingiber officinale) 5.00mg
Nirgundi Ghan (Vitex negundo) 3.00mg
View full details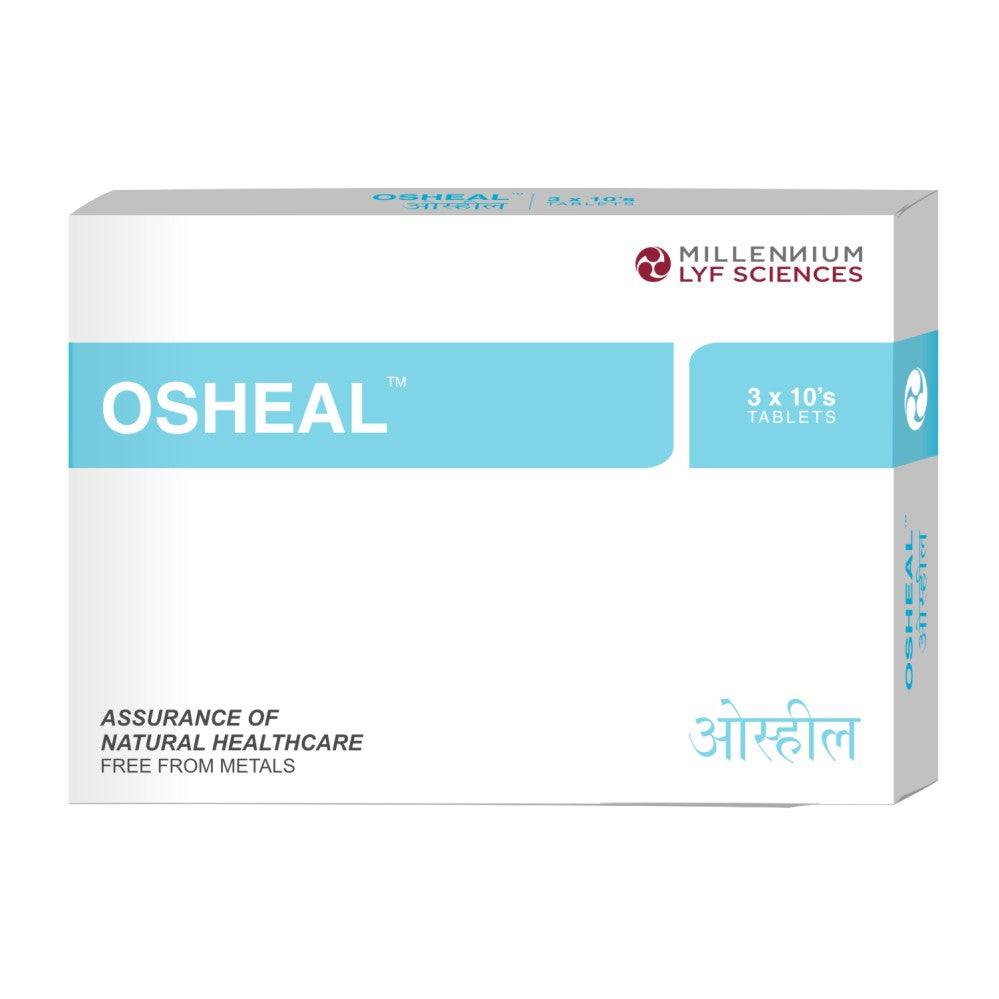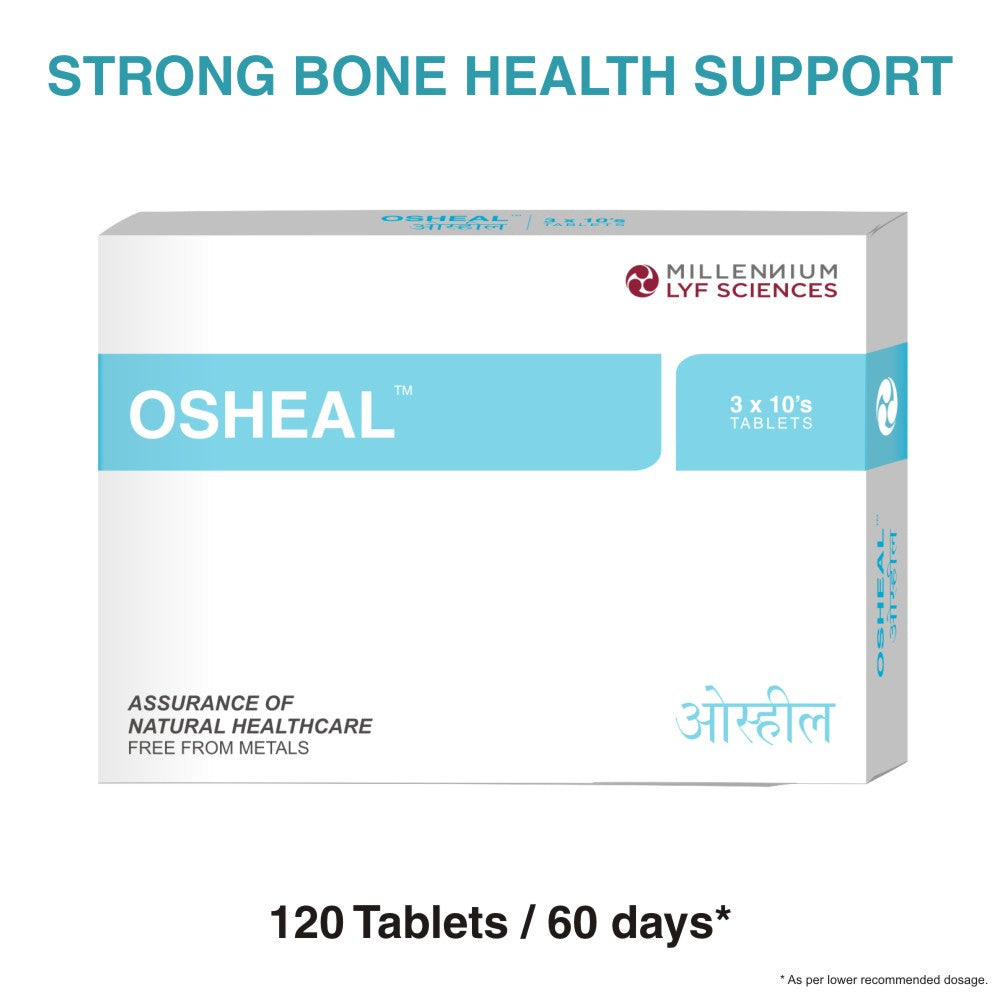 Key Ingredients

Hadjod, Salai guggul are the herbs that hasten the bone healing process. They reduce pain and inflammation associated with the bone fractures
Arjuna provides organic calcium and also has antioxidant properties. Thus it helps lower the blood pressure and cholesterol levels
Ashwagandha strengthens muscles, tissues, and bones.
Shuddha guggul increases the bone density by enhancing calcium deposition, reduces pain and aids in the faster healing of the fractures.
Salai guggul has anti-inflammatory properties and helps in maintaining joint and muscle health
Zingiber officinale reduces fracture pain, joint pain, and muscle pain. It also decreases the bone loss.
Methi stimulates tissue growth and bone healing. It also reduces pain and swelling.
Bala ghan, Haridra, Nirgundi ghan reduces swelling and pain. It helps in tissue repair. Bala ghan, Haridra also have antioxidant properties