Regular price
Rs. 747.00
Sale price
Rs. 672.00
Unit price
per
Sale
Sold out
Ayurvedic Herbal Anti-infective, Superior Cleansing Bath Bar for Body Acne, Eczema, Psoriasis, Healthy Skin Maintenance
What is Sang-Pure Bath Bar?
A healthy skin is considered to be one that is smooth with no eruptions and breaks on its surface. Irrespective of age, a good skin reflects the youthfulness of an individual.
 Hygiene plays a major role in defining the health of the skin. Thus, if the skin is not regularly cleaned, it can serve as a source for various unwanted organisms to thrive thereby causing inflammation, itching, redness and eruptions.
SANG-PURE BATH BAR is an advanced natural anti-infective bathing bar enriched with intensively researched extracts of anti-bacterial herbs. It effectively cleanses and fights epidermal microorganisms preventing skin infection and eruptions. It also moisturizes skin and helps to heal lesions.
Why Sang-Pure Bath Bar?
1. Contains clinically proven anti-microbial and antifungal herbs such as Neem, Daruharidra and Karanj
2. Revolutionary, as it employs for the first time, Ichthyol Pale from Germany that contains anti-inflammatory and anti-fungal properties
3. Instantly soothes irritating skin and prevents excessive perspiration and odour
4. Fights epidermal infection to combat acne and skin eruptions
5. Nourishes, cleanses and moisturizes the skin
6. Promotes cellular repair and helps to heal skin lesions
7. Contains 100% pure glycerine

Who should consider Sang-Pure Bath Bar?

SANG-PURE BATH BAR can be used for the treatment of Acne (face & body), Tenia versicolor, corporis and curis, boils, urticaria, psoriasis.
Directions To Use

Gently massaging SANG-PURE BATH BAR over the body till it creates a sufficient lather and then rinse off thoroughly with water.
Disclaimer

The result may vary from person to person depending on the individual body condition, severity of the ailment and pattern of application/intake, etc.
Full Ingredients List

Sodium stearate, Sodium laureth sulphate, Sodium coocate, Propylene glycol, Sucrose, Sodium chloride, Glycerin, Phytobrill soft extract ( Mix Extracts of Anantmool, Daruharidra, Haridra, Karanj, Lodhra, Manjistha, Neem leaf, Vacha, Yashtimadhu, Dhanyak, Haritaki, Lal chandan, Sodium pyrrolidone carboxylic acid, Ichthyol pale, Menthol, Fragrance and Aqua.
View full details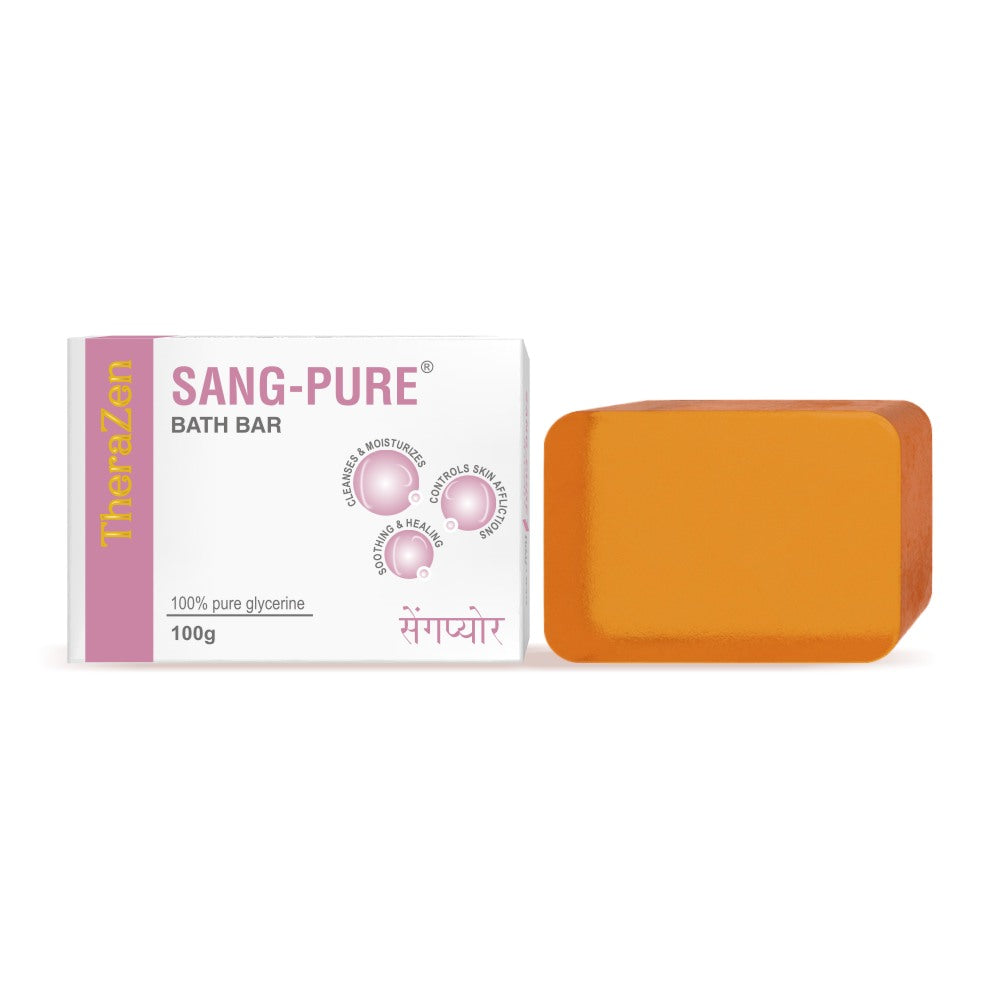 Key Ingredients

Neem- Controls epidermal microbial growth and combats acne and skin eruptions.
Shale oil- Soothes inflamed and irritating skin lesions.
Yashtimadhu- Restores moisture to dry and scaly skin.
Anantmool- Helps rapidly heal lesions and restores smooth and supple skin