Regular price
Rs. 1,500.00
Sale price
Rs. 1,350.00
Unit price
per
Sale
Sold out
What is Healthy Brain Support?
The Healthy Brain Support supplement is a nootropic – brain tonic – for improving and maintaining cognitive health. It is formulated using optimum therapeutic dosages of well researched, evidence backed herbal ingredients having nootropic and antioxidant actions. It contains Brahmi, Veg. DHA, Mandukaparni, Ashwagandha, Ginseng, Jyotishmati, Shankhapushpi, Pippali and Vacha. All these ingredients have been clinically validated to improve the functioning of the brain and other parts of the nervous system.
Nootropics consist of different compounds that potentially slow down cognitive decline by protecting against brain aging. They quickly boost cognitive performance, brain processing speed, mental alertness, and attention in healthy adults.
They may achieve this by increasing blood flow to the brain, combating inflammation, modulating levels of neurotransmitters, and increasing the number or effectiveness of synapses (that enable neurons to communicate). Scientists have identified plant-based compounds shown in human studies to improve cognitive function, processing speed, and memory.
These natural nootropics have anti-inflammatory properties that protect nerve cells. Natural nootropics can also modulate the connections between nerve cells to enhance learning and memory.
Why Healthy Brain Support?
When combined with a healthy diet and lifestyle, Herbalmill's Brain Function Support Supplement can help:
1. Maintain general mood and sense of positivity, promote relaxation, prepare brain to deal with external factors and process mental stress effectively
2. Support normal memory, focus, concentration, recall, and accuracy
3. Support propensity for creativity and learning
4. Improve ability to efficiently 'shut down' when required by the body, helps alleviate occasional sleeplessness, and improves sleep quality
5. Improves overall nerve health

Who should consider Healthy Brain Support?
1. Cognitive dysfunction
2. Observable reactivity to mild to moderate stress
3. Occasional and / or fleeting anxiety, irritability
4. ADD / ADHD
Directions To Use

Supplement your diet with 1 veg. capsule before breakfast and before dinner with sufficient quantity of water, or as recommended by the healthcare professional. Best results seen after 120 days of consecutive use.
Disclaimers & Legal

The result may vary from person to person depending on the individual body condition, severity of the ailment and pattern of application/intake, etc.

These statements have not been evaluated by the Food and Drug Administration. This products is not intended to diagnose, treat, cure or prevent any disease.

Manufacturer Name and Address: MILLENNIUM HERBAL CARE LIMITED. 12 B, Nirmal, 241-242, Backbay Reclamation, Nariman Point, Mumbai 400021

Marketer Name and Address: MILLENNIUM HERBAL CARE LIMITED. 12 B, Nirmal, 241-242, Backbay Reclamation, Nariman Point, Mumbai 400021

Country of Origin: India
Best Before: 24 Months from Mfg. date
Pack size(s): 60 Capsules
MRP: ₹ 1500.00
Unit Sale Price (MRP): USP ₹ 25/CAPSULE
Full Ingredients List

Each Veggie HPMC capsule contains: (Approx.)
Ingredients: Bacopa monnien (Brahmi) extract (125 mg). Veg DHA Olli (100 mg),
Centella asiatica (Mandukparni) extract (25 mg). Withania somnifera
(Ashwagandha) extract (25 mg), Ginseng extract (25 mg), Celastrus Paniculatus
(Jyotishmat) Oil (25 mg). Evolvulus alsinoides (Sankhpushpi) extract (10 mg).
Piper longum (Pippali) extract (8.33 mg), Acorus calamus (Vacha) extract (6.25 mg)
Other Ingredients: Vehicle (Sunflower Oil), Emulsifier (Sunflower Lecithin),
HPMC Capsule
View full details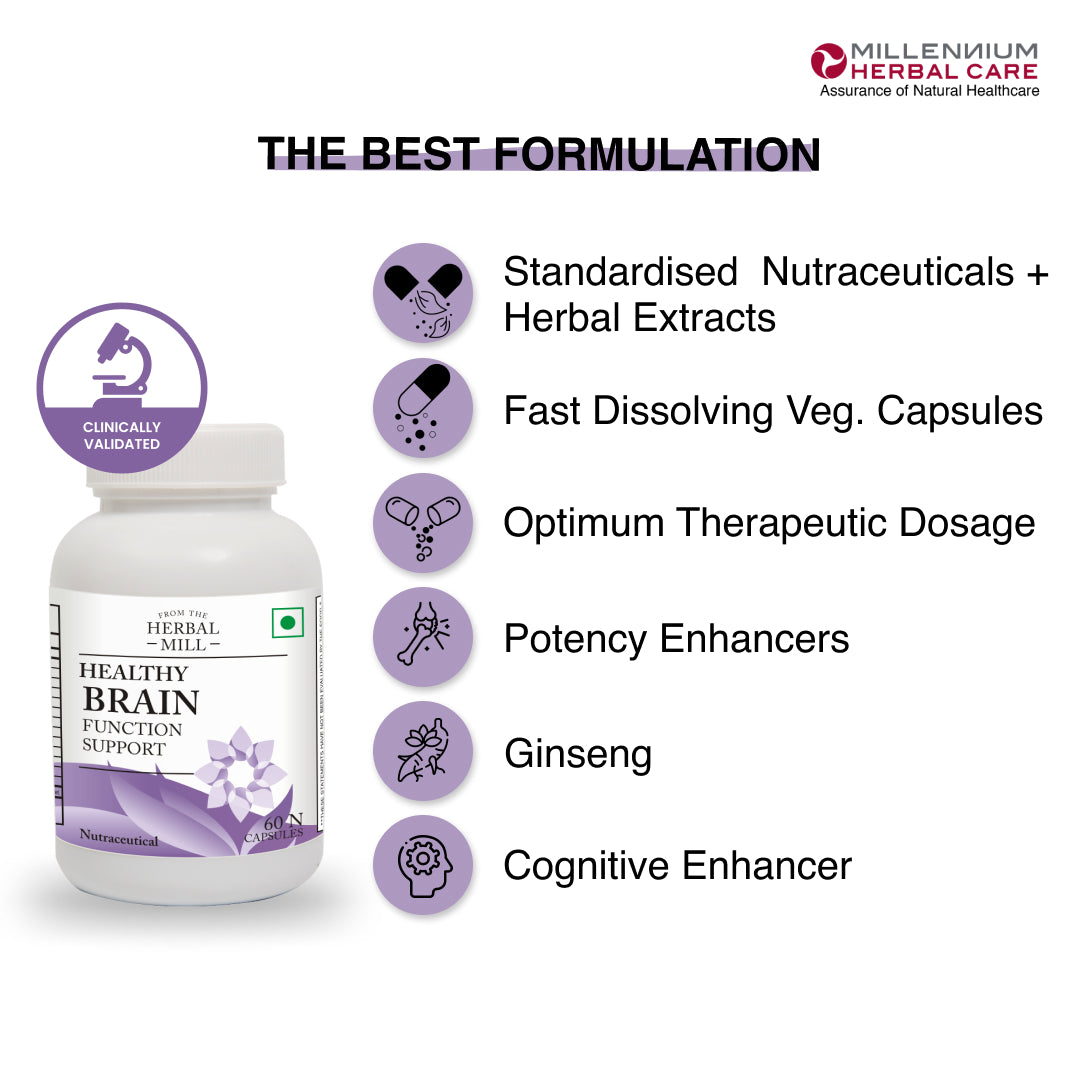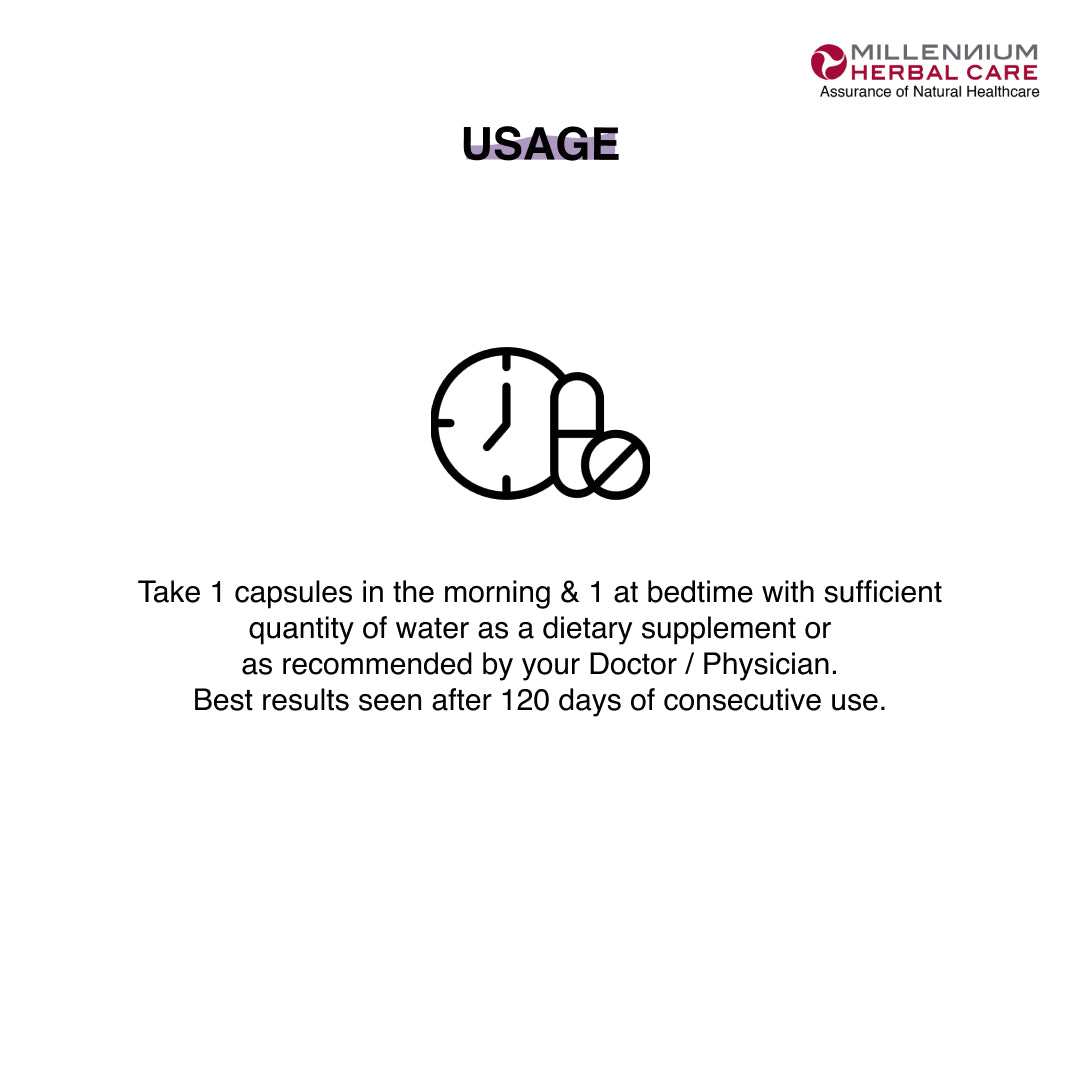 Key Ingredients

Brahmi (Bacopa monniera) – Anti-aging nootropic, anti-oxidant. Anti-depressant and anxiolytic.
Veg DHA (from Algae) - Docosahexaenoic acid (DHA) is an omega-3 fatty acid essential for brain development. Structural component of brain and therefore, helps in growth and development of the brain.
Mandukparni (Centella asiatica) – Boosts memory, increases concentration, anxiolytic and anti-depressant.
Ashwagandha (Withania somnifera) – Adaptogenic, potent antioxidant, anti-stress.
Ginseng (Panax ginseng) - Adaptogenic and potent antioxidant
Jyotishmati (Celastrus paniculatus) – Antioxidant, neuroprotective, cognition-enhancer.
Jatamansi (Nordostachys jatamansi) – Promotes awareness and calms the mind. Reduces hyperactivity, restlessness and aggressiveness.
Shankhapushpi (Evolvulus alsinoides) – Nootropic, cognitive enhancer and neuroprotective, anti-stress.
Pippali (Piper longum) – Anti-depressant, bioavailability enhancer.
Vacha (Acorus calamus) – Neuroprotective, improves blood circulation to brain.