Regular price
Rs. 780.00
Sale price
Rs. 702.00
Unit price
per
Sale
Sold out
Natural & Effective Treatment of Acne, Hyper-pigmentation and Chloasma
What is Sang-Pure Tablet?
Acne is a skin disease that is associated with the presence of pimples on the skin, especially on the face. Excessive darkening of the skin is hyper-pigmentation. Chloasma is the large brown patches on the skin caused due to hormonal changes.
There are several causes for acne such as hormonal changes, environmental pollution, diet, drugs, stress, and bacteria.
Sang-pure tablets and liquid is the natural oral alternative and pigment regulator that govern pigmentation. They contain essential herbs that enhance the complexion of the skin. It has potent antibacterial and antifungal properties to treat the infection.
It eliminates toxins and also improves immune functions. It has hepato-protective properties that purify the blood.
Why Sang-Pure Tablet?
1. Reduces hyperpigmentation by inhibiting the melanin production
2. Restores complexion, enhances skin glow and smoothness
3. Potent antimicrobial properties, hence treats and prevents infection
4. Relieves itching by blocking histamines
5. Prevents skin damage and controls inflammation by inhibiting reactive oxygen species and suppresses pro inflammatory cytokines
6. Hepato corrective properties help detoxify blood
7. Effective colon cleansing action helps eliminate toxins and also improve digestion

Who should consider Sang-Pure Tablet? 

Sang-pure Tablets and Liquid is to be used for the treatment of acne, hyper-pigmentation, and chloasma.
It can also be used for the treatment of:
1. Dermatitis – A skin condition that causes redness, swelling, blisters and irritation
2. Urticaria – Presence of red rashes or wheel form on the skin that appear with intense itching
3. Eczema – Presence of rough and red swollen patches on the skin with or without itching
4. Pruritus – Severe itching of the skin as a result of various ailments
5. Psoriasis – Presence of red and scaly patches on the skin with itching (Autoimmune disease)
Directions To Use

Tablets: 1-2 Sang-pure tablets can be taken twice daily for 120 days or as directed by the physician.
Disclaimer

The result may vary from person to person depending on the individual body condition, severity of the ailment and pattern of application/intake, etc.
Full Ingredients List

Each film coated tablet / 10ml contains extracts derived from : Anantmool (Hemidesmus indicus) 300.00 mg Manjistha (Rubia cordifolia) 300.00 mg Khadir chal (Acacia catechu) 200.00 mg Neem (Azadirachta indica) 100.00 mg Sanay (Cassia angustifolia) 100.00 mg Guduchi (Tinospora cordifolia) 50.00 mg Chiraita (Swertia chirata) 50.00 mg Haridra (Curcuma longa) 50.00 mg Pittapapda (Fumaria indica) 50.00 mg Kumari (Aloe vera) 50.00 mg Vavding (Embelia ribes) 50.00 mg, Trikatu (Piper longum, Piper nigrum,
Zingiber officinale) 50.00 mg Karanj chaal (Pongamia glabra) 25.00 mg Kutki (Picrorrhiza kurroa) 25.00 mg
View full details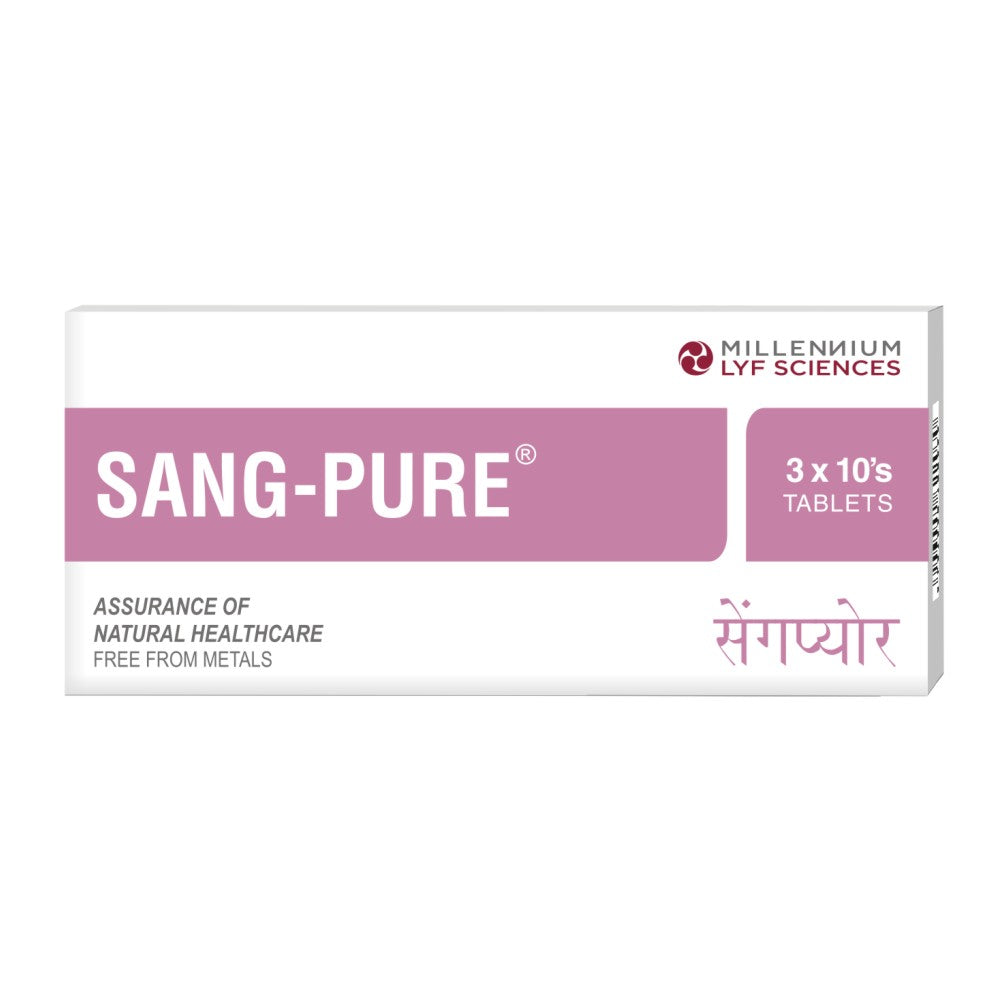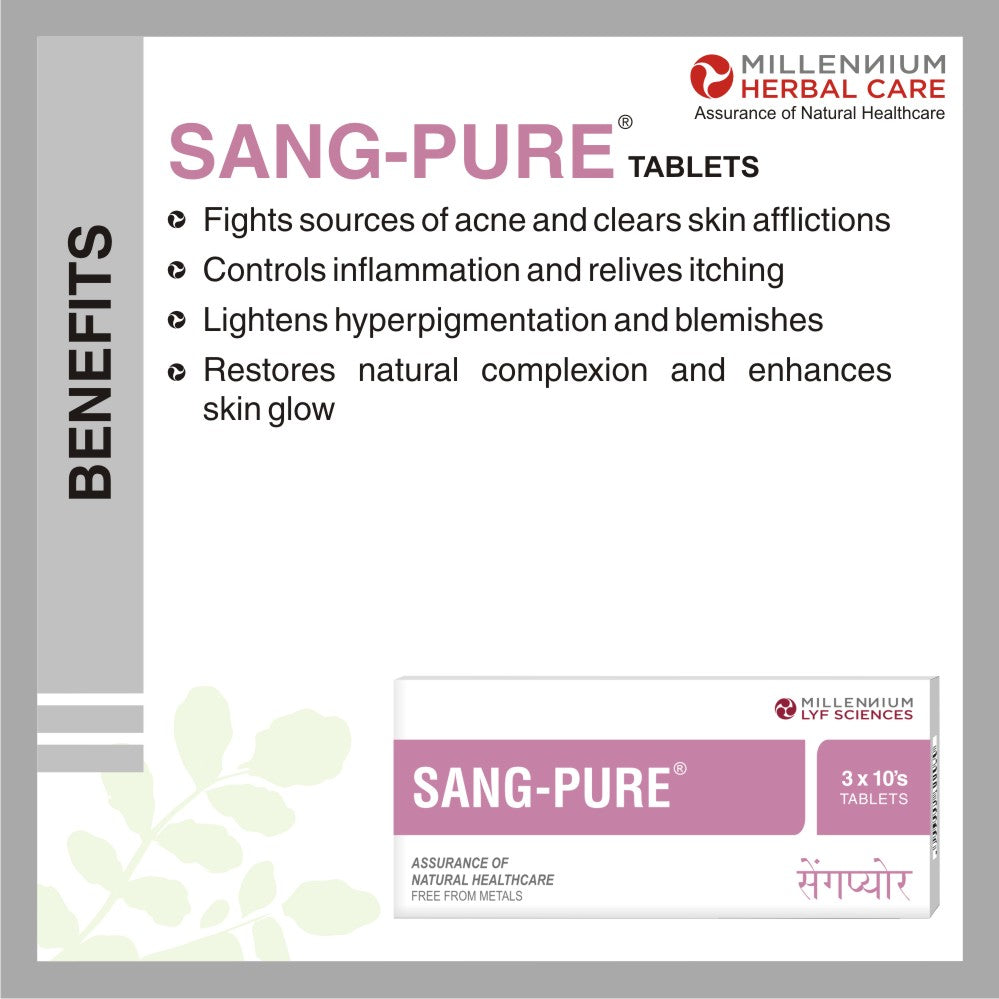 Key Ingredients

Sariva, Manjishtha, Haridra, Neem reduces swelling
Haridra, Neem, Khadir have an antibacterial and antifungal actions that prevent and reduce infection
Guduchi, Kumari, Vidang contains antioxidants that inhibit oxidation
Guduchi, Kumari, Vidang, Kutki, Pittapapda are hepato-protective herbs that prevent and repair damage of the liver
Pittapapda, Sanay, Kumari acts as colon cleansing agents that helps in removing the toxins from the colon