Regular price
Rs. 795.00
Sale price
Rs. 716.00
Unit price
per
Sale
Sold out
Potent Proven Natural Nutraceuticals for Cholesterol & Heart Health Support 
What is Cardicare?
As we age, cardiometabolic status becomes a priority, and goes beyond diet and exercise. Supplementation with ingredients that support the known facets of cardiometabolic performance and status will be embraced by active middle-agers to ensure reasonably strong well-being as they enter their elder years.
CARDICARE, a unique combination of standardized extract of herbs and nutraceuticals has exciting pre-clinical verifying its role for protecting cardiometabolic health.
The most important behavioral risk factors of heart disease and stroke are unhealthy diet, physical inactivity, tobacco use and harmful use of alcohol. The effects of behavioral risk factors may show up in individuals as raised blood pressure, raised blood lipids, raised blood glucose, and overweight and obesity.
Why Cardicare? 
1. Is proven (In-Vitro Study) to inhibit lipid peroxidation in arterial wall by its antioxidant action in comparison to quercetin
2. Helps lowers raised level of triglycerides and LDL
3. Prevent vascular oxidative stress and promotes endothelial health
4. Prevent arterial plaque deposition and reduces risk of ischemic heart disease and stroke
5. Helps to combat side effect of cholesterol lowering drugs like statins


Who should consider Cardicare?
CARDICARE SGC is a perfect nutraceutical and natural medicine for people wanting to support:
1. Maintain normal cardiometabolic health
2. Normal lipid profile
3. Adjuvant therapy to cardiovascular prescription
4. Add on therapy to pre-diabetes and diabetes
5. Prophylactic therapy- Hereditary predisposition to CVD


Directions To Use

1 capsule to be taken twice daily after meals as a dietary supplement or as directed by your physician.

Disclaimer

The result may vary from person to person depending on the individual body condition, severity of the ailment and pattern of application/intake, etc.
Full Ingredients List

Each Sofgel capsule contains :trans Resveratrol (95%), Proprietory blend of [Omega 3 fatty acid (EPA/DHA 80:20), Grape seed extract (50% polyphenols). Co enzyme Q10]. Other ingredients :Gelatine, Glycerin, Sorbitol, Lecithin, Methyl paraben, Proply paraben, Approved food colours and Flavours
View full details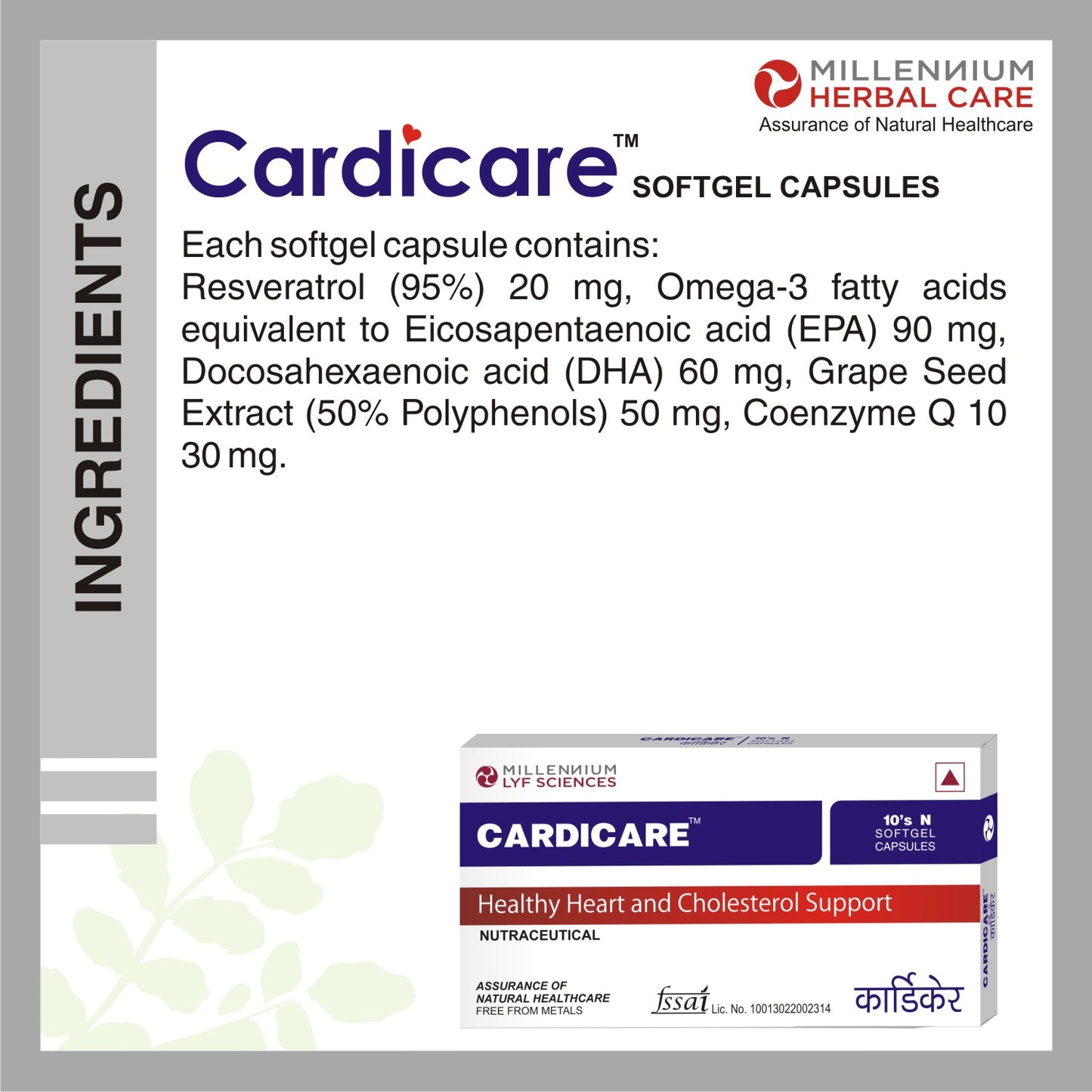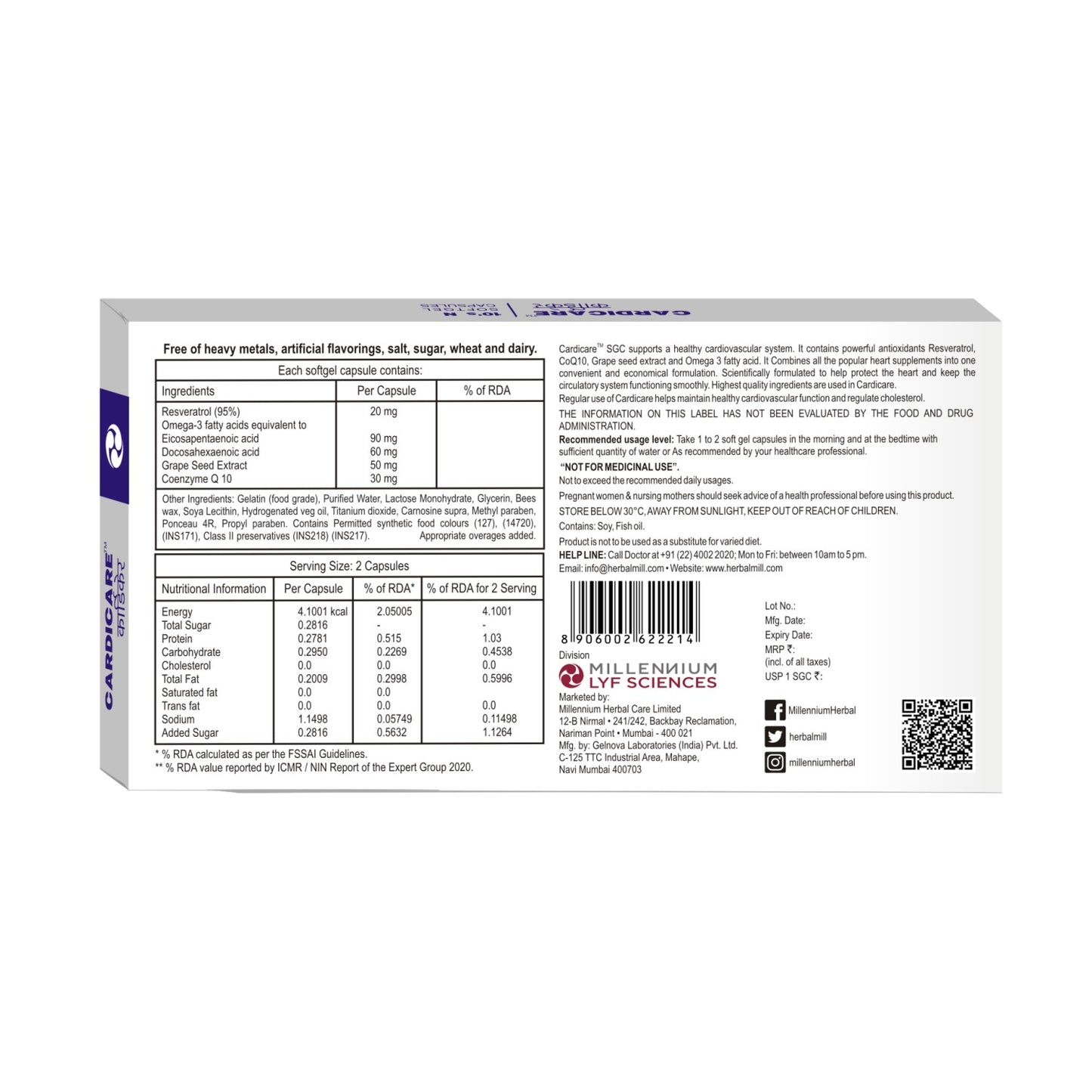 Key Ingredients

Resveratrol: Regulates lipids metabolism, Increase blood supply to heart, Insulin sensitizer & Antioxidant.
Co-Q10 (Ubiquinone): Regulates lipids metabolism, Insulin sensitizer, Promote heart health, Antioxidant & Increases energy
Omega-3 FA (EPA/DHA 80:20): Regulates lipids metabolism, Attenuates platelet function, Prevents atherosclerotic plaque & Increase insulin sensitivity
Grape Seed: Increases good cholesterol, Increase blood supply to heart & Anti-atherosclerotic