Regular price
Rs. 1,080.00
Regular price
Rs. 1,200.00
Sale price
Rs. 1,080.00
Unit price
per
Sale
Sold out
What is Healthy Joint Support?
Herbalmill's HEALTHY JOINT Supplement is a powerful combination of herbal ingredients and Omega 3 & 6 fatty acids, which relieve symptoms of joint and muscle disorders and can slow the progression of joint diseases
This clinically validated formula is a synergistic blend of natural ingredients having anti-inflammatory, analgesics, anti-degenerative and potency enhancing actions.
Why Healthy Joint Support?
1. Reduces or eliminates pain
2. Reduces swelling, morning stiffness
3. Protects articular structures and prevent extra articular manifestations
4. Prevents loss of joint function
5. Controls systemic complications
6. Prevents disability, work loss and mobility loss
7. Improves or maintain quality of life
8. Fast action with symptomatic relief

Who should consider Healthy Joint Support?
1. Joint Pain
2. Osteoarthritis
3. Rheumatoid arthritis
4. Vertebral (cervical & lumbar) spondylosis and spondylitis
5. Frozen shoulder
6. Low back pain (lumbago)
7. Gout
Directions To Use

Take 1 capsule in the morning & 1 at bedtime with sufficient quantity of water as a dietary supplement or as recommended by your Doctor / Physician. Best results seen after 120 days of consecutive use
Disclaimer

The result may vary from person to person depending on the individual body condition, severity of the ailment and pattern of application/intake, etc.
Full Ingredients List

SALAI GUGGUL (Boswellia serrata) (Gum resin) 45. SHUDDHA GUGGUL
(Commiphora mukul) (Gum resin) 45. HARIDRA (Curcuma longa) (Rhizome) 25,
SOONTH (Zingiber officinale (Rhizome 25. ASHWAGANDHA (Withania
somnifera) (Root) 45, CHOPCHINI Smilax species) (Tuber) 20, DHANYAK
Conandrum sativum) Frut) 20, NIRGUNDI (Vitex negundo) (Lean 17, PIPPALI
Peer ongum) (Frut) 15, PUNARNAVA Boerhavia diffusa) (Herb) 6. LAVANG
TEL (Syzypum aromaticum) 3.1
RDA based on a 2000 calones del
1% RDA have not been established.
Other ingredients: Omega 3 & 6 oil, Vegetable celulose capsule Sunflower
lecithin, Scon dioxide, Mixed tocopherol
Manufactured in a facility that processes tree nuts. #Marine origin
View full details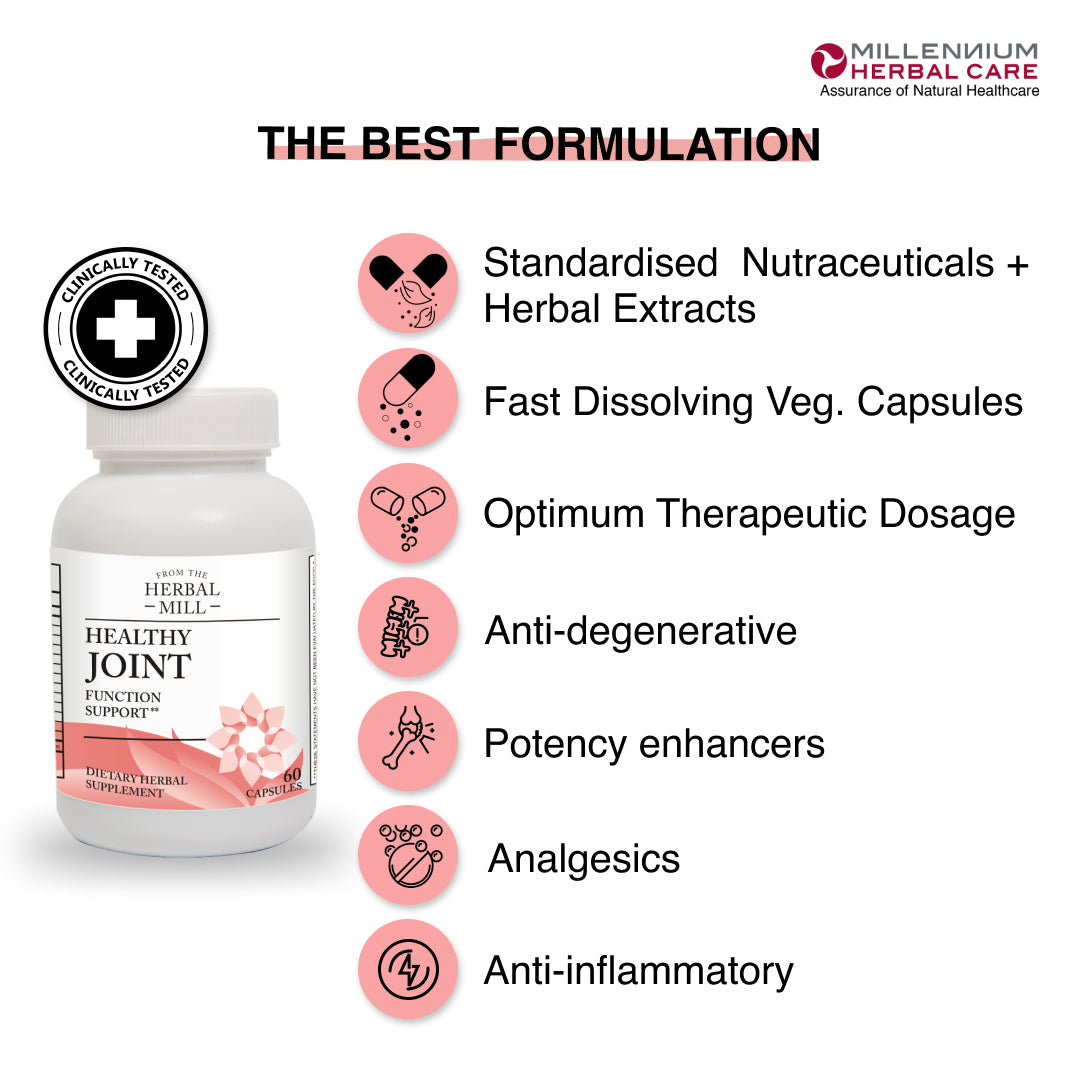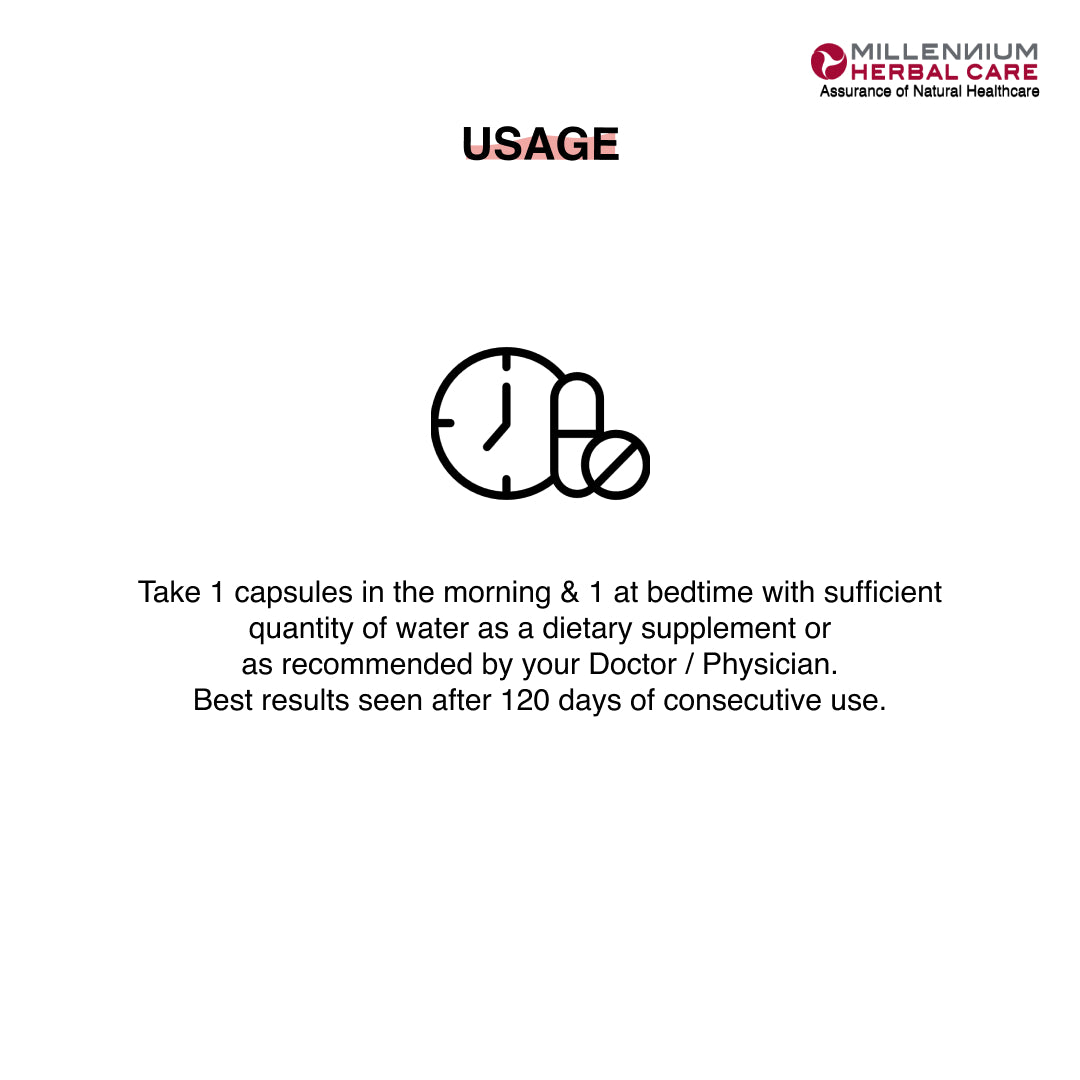 Key Ingredients

Anti-inflammatory: Boswellia serrata, Commiphora mukul, Curcuma longa, Smilax china, Vitex negundo, Boerhavia diffusa, and Pluchea lanceolata.
Analgesics and anti-degenerative: Withania somnifera, Clove oil
Potency enhancers: Zingiber officinale and Piper longum